The U.S. Centers for Disease Control and Prevention defines aging in place as "the ability to live in one's own home and community safely, independently, and comfortably, regardless of age, income, or ability level." Read on to learn of some ways that can allow you to stay safer in your home as you grow older.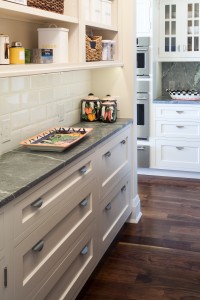 Lever door handles are easier to turn than knobs. These are among one of the more inexpensive changes that can be added to your home.
Think flooring. Wood, linoleum, cork or even rubber flooring are good options because they are easier on joints and safer if a fall were to occur.
Being able to pull out shelves to reach exactly what you need is necessary especially when things become less accessible as you age. Wide, easy-to-grab cabinet and drawer pulls are essential if you want to age in place. Cabinet knobs and drawer pulls are also a fairly inexpensive change.
Wider hallways and passages to accommodate a wheelchair or walker. In the kitchen, the Americans With Disabilities Act guidelines require at least 60 inches of clearance between opposing cabinets, walls or appliances for U-shaped kitchens; galley or "pass through" kitchens require at least 40 inches of clearance between opposing surfaces.
No-threshold shower. Although these are growing in popularity due to the sleek look they offer, curbless showers are essential in an aging in place home as they are easier and safer to use. Grab bars can also be added for more safety.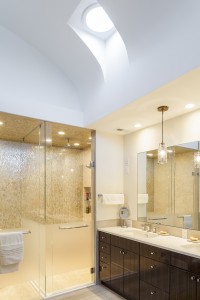 Atleast one no step entry in to the home that is covered and well lit. This is essential to allow access for wheelchairs and walkers.
Elevator. If the home is more then one level be sure the staircase has secure banisters as well as an elevator. If you are not prepared to install an elevator currently, you can frame in stacked closets on top of each other to use for storage until you are ready to add in the elevator.
Wider doors to allow for walkers and wheelchairs. It is suggested that doorways be atleast 32-inches wide.
Install comfort-height toilets. These are two to three inches higher than traditional toilets, and require less bending to sit on.
In conclusion, addressing flooring issues, installing additional lighting and adding in a curbless showers are all things that may be beneficial to all ages and can be more aesthetically appealing. Are you considering adding any of these features to your home?
Sources houzz.com and The U.S. Centers for Disease Control and Prevention