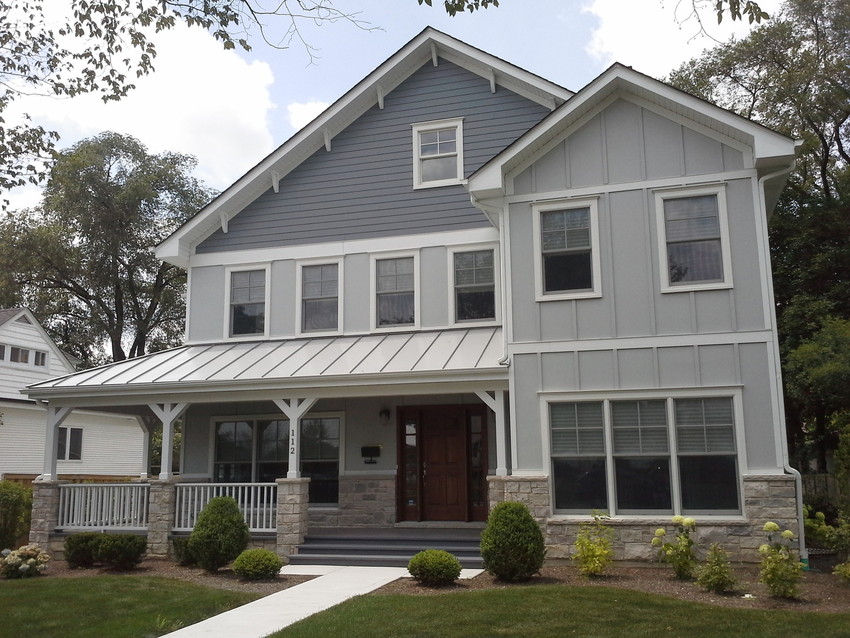 American Farmhouse home design has always been a common, classic style in our architectural history, originating with the first American colonists. However, with the rise in popularity  of HGTV's Fixer Upper show starring Joanna Gaines and her husband, Chip, farmhouse style has enjoyed a significant revival and further evolved with a new twist now known as "Modern Farmhouse".  Below we review what builder elements you can use to design your new construction or remodel with quintessential Modern Farmhouse style. (Main photo above – Modern Farmhouse, photo courtesy of James Hardie).
Vertical siding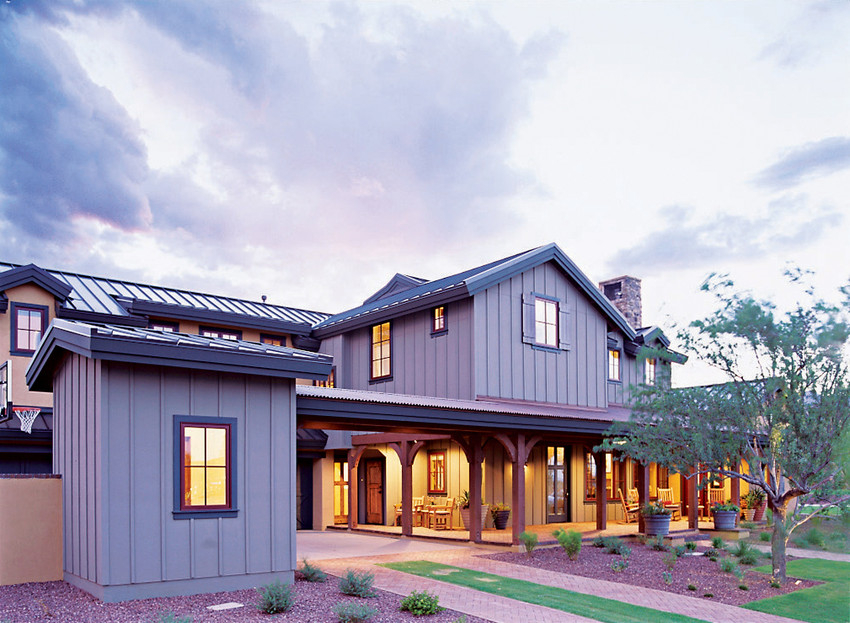 Applying  vertical lap or Board and Batten siding in a light (typically white) monochromatic exterior color is unmistakably Modern Farmhouse. It also helps accentuate the rectangular shape of the home while drawing the eye to the standing seam metal roof. This often will often also make the house appear taller as well.
Black window casings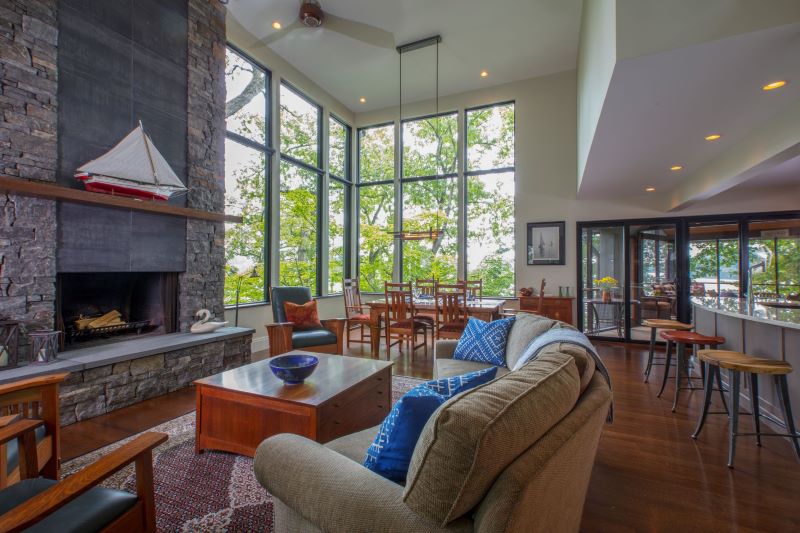 Black windows are the height of chic right now.  Black casings help add drama and modernity that defines today's Modern Farmhouse. When black windows are paired with matching furnishes in the room they really make a room pop.  They also add stunning contrast to the light colors typically associated with the farmhouse aesthetic.
Standing seam metal roof
Standing seam metal roofs are more expensive initially, but the cost pays off in the long run as a more durable and long-lasting roofing material.  This type of metal roof system will less likely cause roof leaks in the future. Also, with not having the hardware exposed, it leaves the roof with a clean hard line finished look.
Sliding barn doors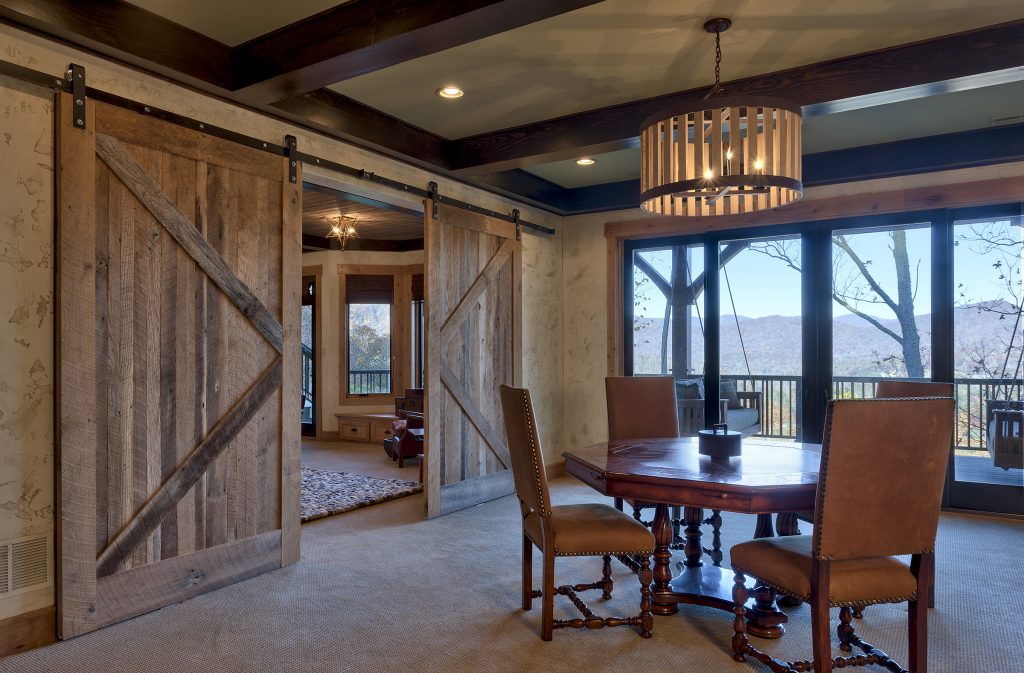 Sliding barn doors are everywhere right now as the Rustic Farmhouse look trend continues.  In my experience with clients, sliding barn doors are desirable over traditional pocket doors because they allow a homeowner to gain more room in a space with the bonus of adding character as architectural décor while still retaining their functional purpose as a door to separate and define spaces. We're even seeing now riffs on the solid wood sliding barn door in new transparent "french door-esque" glass and frame versions which up the ante on fresh and modern. The image above is a double barn door (Sun Mountain Design SQ-0100-D001-HX), with crossbucks, made of Reclaimed Barnwood with Clear Coat finish.
Exposed Beams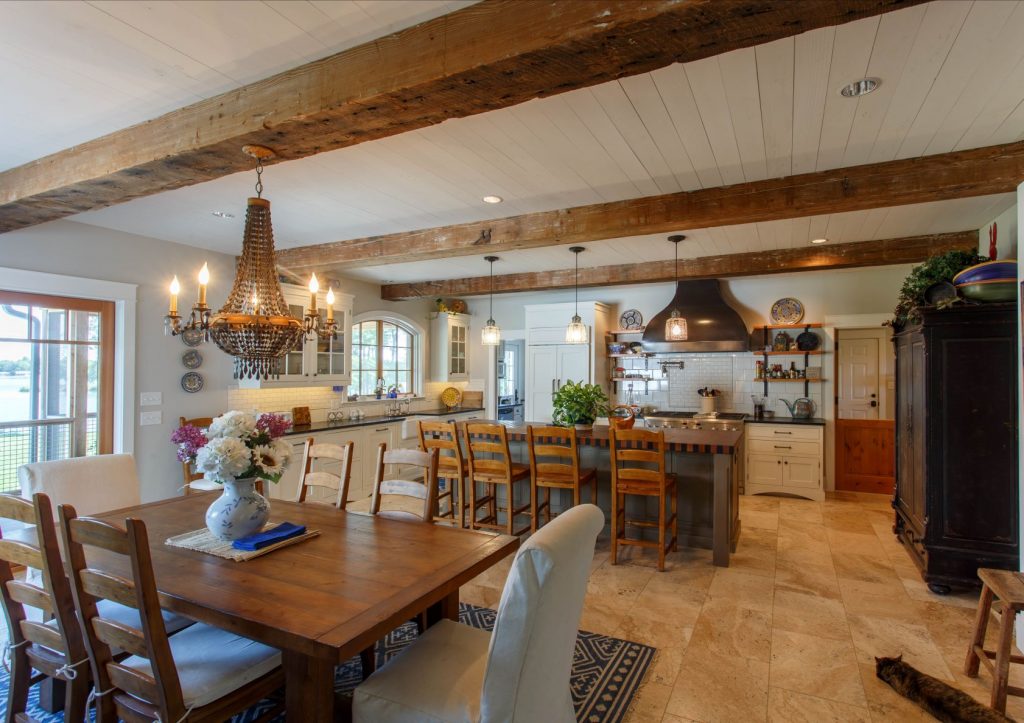 Having Exposed beams in your project also adds drama and character to your Modern Farmhouse home. These beams can be structural if you had an old barn that was then turned into a house, which would be called a Timber Frame. The most common construction now is Stick frame which includes smaller beams and metal fasteners. You can still achieve this beam look by adding exposed beams for purely aesthetic aim. These beams can either show off the beautiful raw wood grain, or showcase a  salvaged or reclaimed wood. You can also paint or stain them to match the ceiling or to provide a contrast. Exposed beams also do not have to be made of wood at all. Steel or other materials can also be used and either left as is, or finished with a wrap made from reclaimed barnwood or even hardwood flooring.
Tongue and groove paneling, ship lap and Buttboard
When you walk into an old farmhouse,  you typically won't see drywall, but rather wood planks on the wall. The Modern Farmhouse often comes with not only exposed beams on the ceiling, but the treatment of the ceiling itself is often a focal point, utilizing tongue and groove paneling.  Adding wood planks to either the walls or ceiling of  your Modern Farmhouse adds a rustic, cozy and crafted home feeling that adds dimension and depth of interest with the layering of building textures.
So what happens when you want to incorporate some Modern Farmhouse builder elements but also really love elements from other styles of home? This is often how new twists like Modern Farmhouse come into fruition in the first place. Styles marry and evolve into something new. This also is exactly why homeowners choose to work with us! As a custom builder, we aren't boxed into a specific home design plan. We also know the rules of different architectural styles but are not afraid to break them to fulfill your wish list! We look forward to helping you design and build a home that is custom-made for YOU!