We're on a mission to make your spaces more people-friendly than ever.  
You in? 
Technically speaking, Universal Design refers to the design of buildings, products, and environments to make them accessible to all people, regardless of age, disability, or other factors. However, EVERYONE can benefit from Universal Design in their homes. 
Why is Universal Design Important in Homes?
Families are sharing the responsibilities of home life.

 

Evolution of how responsibilities are carried out.

 

Average life expectancy continues to increase.

 

A typical family contains members of widely varying ages, sizes, and abilities.

 

We should not be forced to move because a house is not adaptable to family change.

 
What Does Living in Place with Universal Design Look Like?
Modernizing your home for Living in Place with Universal Design should not mean creating a clinical and cold atmosphere. Instead, it's an inclusive approach for a better future. You can open your home to anyone and welcome them with attractive designs that WOW while gaining your own freedom to live the life you choose now, and well into the future. 
Here are several of the modern conveniences that you can add to your home that make large impacts:
Whole-Home Modifications Include: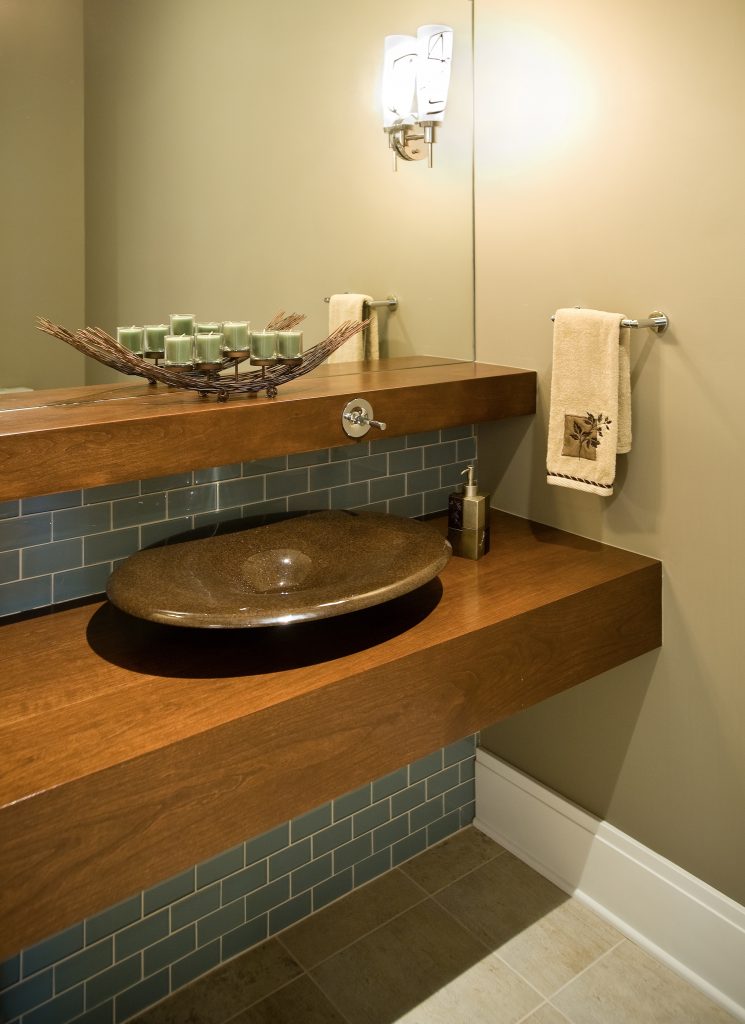 Extended hand railings past the last step both at the top and bottom of the stairs. This allows you to hold your balance while getting on or off the last step.

 

Entrances and decks with flush thresholds and no steps accommodate wheelchairs, walkers, and strollers. 

 

A shorter rise on stairs is easier to climb and easier on your joints.

 

Enlarged landings create space for setting down bags and personal belongings while opening the door.

 

Hardware that can be used with your hand, elbow, or knee include lever doorknobs, push plates on doors, rocker light switches, loop handles, and touch latches.

 

Video doorbells allow for added security and convenience.

 

Interior and Exterior Motion-sense lighting

 

Open floor plan concepts minimize hallways and tight spaces while maximizing the line of sight.

 

Stacked Closets with knock-out floors can later become an elevator shaft.

 

Wider doorways and hallways.

 

Front-loading washers and dryers with front controls on raised platforms reduce bending.

 
Bathroom Modifications Include: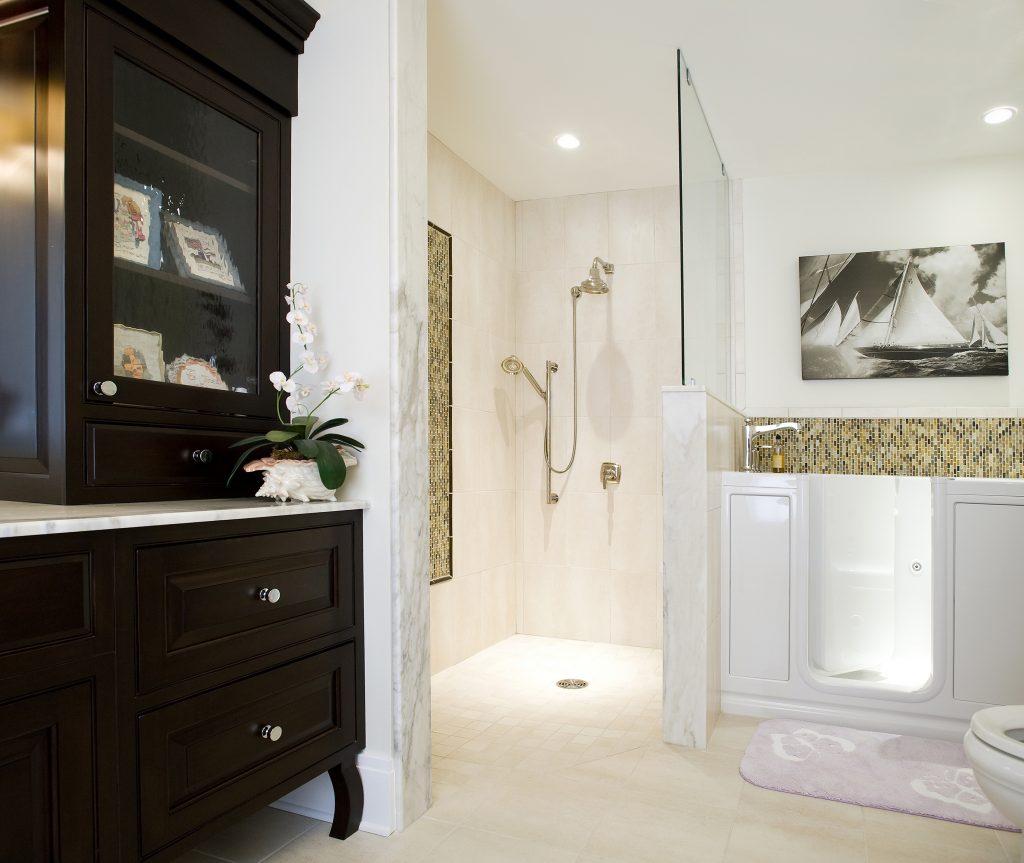 Larger curbless showers.

 

Adjustable hand-held showerheads.

Smart shower controls

 

Temperature-balanced valves

 

Walk-In tubs

 

Non-slip flooring

 

Taller toilets

 

Extra clearance around toilets and fixtures

 

Knee space under vanities and sinks

 

Extra blocking in walls for future grab bars (Grab bars can also double as towel bars).

 

Voice-lighted mirrors

 

Pocket doors.

 
K
itchen Modifications 
I
nclude: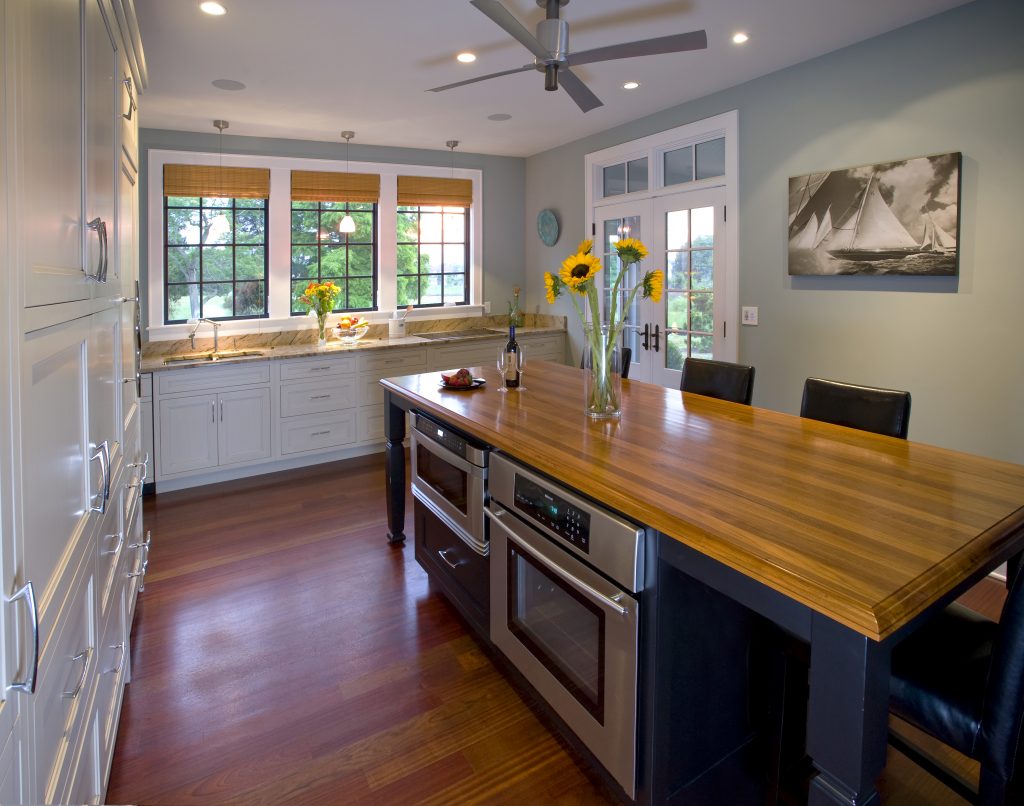 Touchless and single lever faucets make it easier to adjust water temperature and operate

 

with a single hand or elbow. 

 

Smart appliances

 

Hands-free voice-activated faucets

 

Larger cabinet pulls

 

Cabinets with adjustable and pull-down shelves, along with full-extension pull-out shelves and doors

 

Front or side controls on stoves allow for easy reach and lessen the risk of reaching over hot burners.

 

Wall ovens create knee space underneath and make transferring dishes from the oven to counter easier without lifting, reaching, or bending.

 

Dishwashers can be raised on platforms to reduce bending.

 

Multi-level kitchen countertops with open space underneath allow the cook to work while seated or for taller people to work without bending.

 

Induction cooktops and 

stoves offer a safer way to cook than electric or gas

. They do not 

emit gas into the air, 

and they won't catch 

objects, like dishcloths, on fire.

 

Drawer microwave

s allow access without having to reach up above the counter or range like traditional microwaves.

 

A side-by-side refrigerator with pull-out shelves makes items easy to reach. An under-counter or drawer-type refrigerator can create access to taller items.

 
Where Should You Start to Create Your Space with Universal Design?
Lundberg Builders is more than a full-service residential contractor. We are your partner for creating the home of your dreams and your future. Our goal is to help you live in your home as long as possible. Our designers plan for both looks and practical needs. We want to ensure that your house looks amazing and that it will serve your needs well into the future. Your Universal Design starts with our Home Audit Checklist. This assessment gives us the opportunity to understand your specific needs and desires. Whether it's new construction, a complete renovation, or remodeling a few rooms. The checklist helps to empower our design team to create a space that's what you want today and what you need in the foreseeable future. 
Lundberg Builders, Inc. and 314 Design Studio, LLC are your home design and renovation partners. Working together to create your dream space for now and the future.
This blog was written by Tyler Marold, UDPC. Residential Designer/Drafter for Lundberg Builders, Inc.