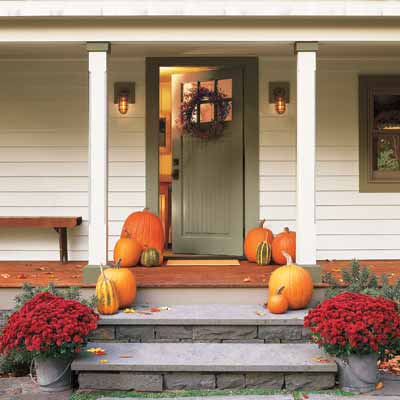 Fall means vibrant red, orange, and yellow foliage, lots of pumpkins, and refreshingly cool temperatures. But, it also means winter isn't far away. Here are a few projects—from looking after the exterior of your home to maintaining your heating system—that can help your home gear up for the cold and save you some cash.
Light the Way With Outdoor Lanterns. Colder days, means less daylight. Add outdoor lanterns or lights to your pathway to have some light when you arrive home. This will also help to enhance the curb appeal of your home, while adding a measure of safety and  security.
Remove garden hoses from outdoor faucets and store them in a shed or garage. Leaving hoses attached can cause water to back up in the faucets and in the plumbing pipes just inside your exterior walls. If freezing temps hit, that water could freeze, expand, and crack the faucet or pipes. Make this an early fall priority so a sudden cold snap doesn't sneak up and cause damage.
Here's the chore on everyone's "least favorite" list: clean your gutters. Clogged rain gutters can cause ice dams, which can lead to expensive repairs in winter. After the leaves have fallen, clean your gutters to remove leaves, twigs, and gunk. Make sure gutters aren't sagging and trapping water; tighten gutter hangers and downspout brackets if necessary. Annually your roof's drainage system diverts thousands of gallons of water from your house's exterior and foundation walls. That's why it is so important to keep this system flowing smoothly.Your downspouts should extend at least 5 feet away from your house to prevent foundation problems. If they don't, add downspout extensions (typically about $10 to $20 each).
*Pro Tip: After cleaning your gutters, cover them with mesh guards to keep debris from collecting again
Grab a couple of tubes of color-matched exterior caulk and make a journey around  your home's exterior, sealing up cracks between trim and siding, around window and door frames, and where pipes and wires enter your house. Preventing moisture from getting inside your walls is one of the least expensive — and most important — of your fall maintenance jobs. Gaps in caulk and weather-stripping can account for 10% of your heating bills, according to the U.S. Department of Energy. Because weather stripping can deteriorate over time, it is important to inspect it periodically. To check the efficiency of your weather stripping try this: close a door or window on a strip of paper; if the paper slides easily, it's not doing its job.

 Prune plants: Late fall is the best time to prune plants and trees because the summer growth cycle is over. Your goal is to keep limbs and branches at least 3 feet from your house so moisture won't drip onto roofing and siding, and to prevent damage to your house exterior during high winds.
Before the chill sets in, make an appointment for your furnace's annual checkup. To avoid the last-minute rush, consider scheduling this task in early fall, before the heating season begins. Without this yearly cleaning and inspection, a system can wear itself out quickly, pump deadly carbon monoxide into your home, or simply stop working. Remember to change your furnace filters, too. This is a job you should do every two months anyway, but if you haven't, now's the time! You'll notice a difference in the air quality, and your furnace will run more efficiently. Disposable filters can be vacuumed once before replacement. Foam filters can also be vacuumed, but don't need to be replaced unless they are damaged (use a soft brush on a vacuum cleaner). If the filter is metal or electrostatic, remove and wash it with a firm water spray.
Take steps to repair damaged sidewalks, driveways, and steps before things get icy.  Damaged walkways, drives, and steps are a hazard year round, but the dangers are increased when the weather turns icy. Look for cracks more than 1/8-inch wide, uneven sections, and loose railings on steps. Check for disintegration of asphalt, or washed-out materials on loose-fill paths. Fixing these smaller problems in the fall is also critical to preventing little problems from becoming major future expenses.
It's smart to do a safety check of your home at minimum once per year. Here are some pointers on how to do this.  

Test smoke and CO monitors. Test the detectors by pressing the test button or holding a smoke source (like a blown-out candle) near the unit. Replace the batteries in each smoke and carbon monoxide detectors if necessary. If you haven't already, install a smoke detector on every floor of your home, including the basement.
This is also a good time to get the family together for a review of your fire evacuation plan.
Check fire extinguishers. Every home should have at least one fire extinguisher. Annually, check the indicator on the pressure gauge to make sure the extinguisher is charged. Make certain that the lock pin is intact and firmly in place, and check that the discharge nozzle is not clogged. Clean the extinguisher and check it for dents, scratches, and corrosion. Replace if the damage seems severe. Note: Fire extinguishers that are more than six years old should be replaced!
Fire escape plans. Every bedroom, including basement bedrooms, should have two exit paths. Make sure windows aren't blocked by furniture or other items. Ideally, each upper-floor bedroom should have a rope ladder near the window for emergency exits.
As you're enjoying the last few weeks of warm weather, make sure that your home is prepared for the coming colder days. Preventative maintenance now will save money on expensive emergency repairs and wasted energy costs. Properly maintaining your home also enhances its value and appeal and is less effort than managing a crisis later.    Taking the steps above will have you & your home ready for the chilly days ahead!