If windows are said to be the eyes of the home, your front door could very well be considered entry to the soul of your home. Your approach to and choice of a front door surely sets the tone for your home…and here, where the salt air and Bay breezes abound, you will also want that door to be as functional as it is beautiful.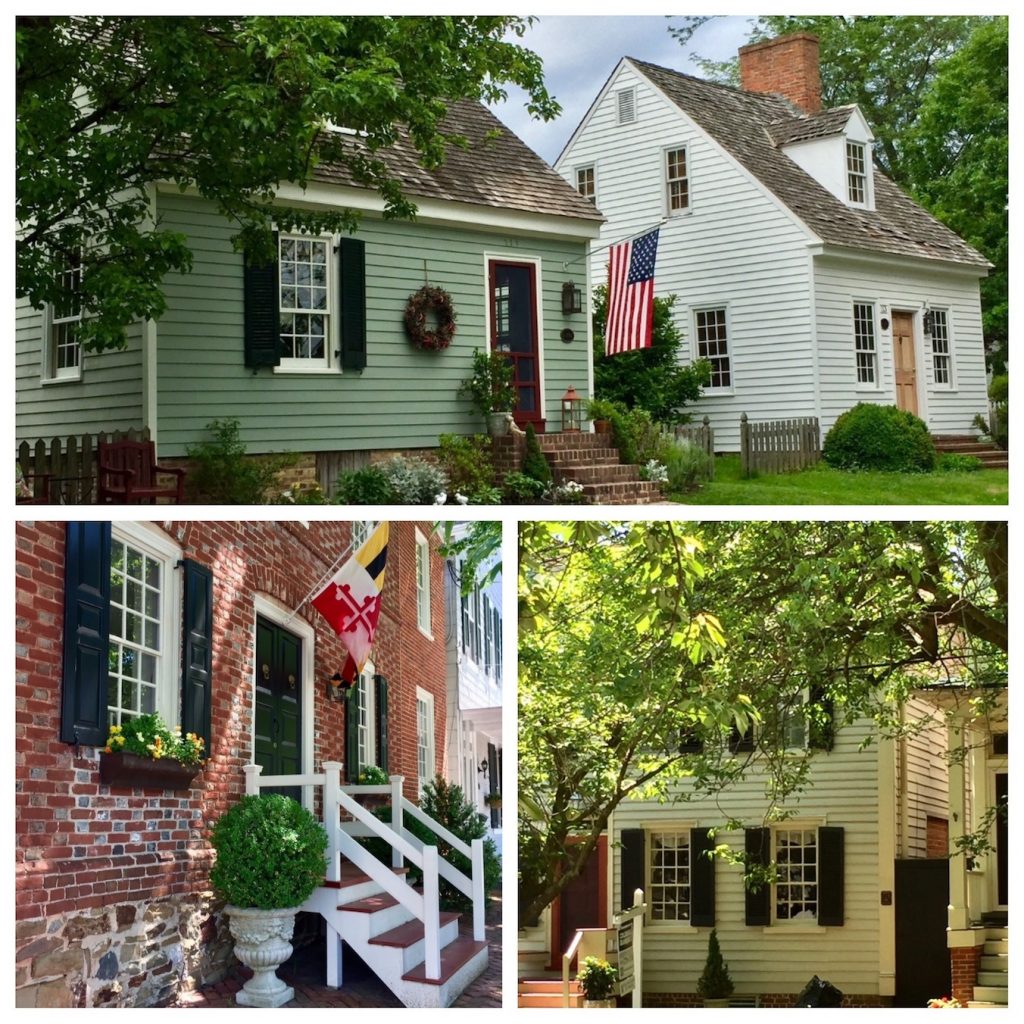 How can you make sure that happens? Consider the three primary aspects you will need to address: Safety, Durability and Curb Appeal. (Photo by Lisa J. Gotto)
Safety –the Number One thing your door needs to do is keep your family secure within the walls of your home and keep the criminal element out.
Durability –no matter the material you choose for the door, as a homeowner you need to make peace with the fact that it will require some amount of periodic maintenance to ensure long-term reliability.
Curb Appeal –Finally, the fun stuff! What's great about today's doors, is that you need not sacrifice form for function. So, go ahead-think about what the door on your dream home looks like and then talk to your builder and home design pro. They can help you choose the right material and craft the look you desire.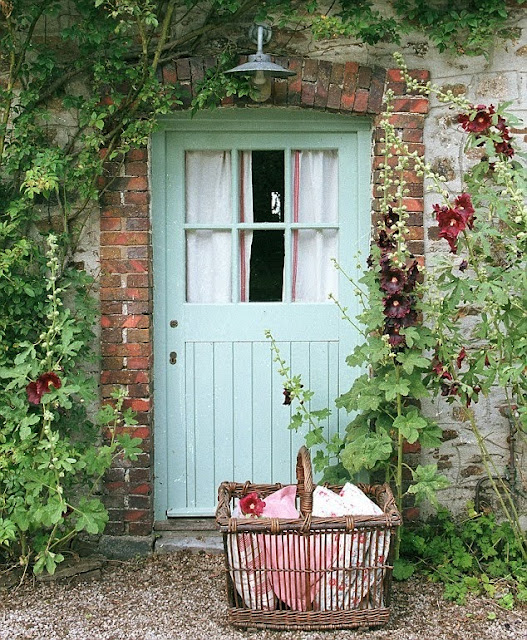 Answering the Wood, Steel or Fiberglass Question
 Like the door above, for many homeowners only the look of wood will do. It's a warm, earthy material…and truly some of the most inviting entryways are those that are showcased in wood. Wood choices include oak, cherry, walnut, mahogany, maple, and fir.(Photo courtesy of Shabby & Charme)
Solid wood doors make an awesome canvas for color, especially softwood varieties, such western hemlock or pine. So if you are going for the wood look, keep in mind that these doors are best installed in areas that have a degree of protection like an overhang or a portico so they are somewhat shielded for the elements. If you are concerned about wood's natural tendency to shrink or warp, you may wish to compromise and choose a stock wood door that offers a veneer skin over an engineered wood core.
There are ways to keep warping at bay. This includes purchasing a door that was stored properly prior to installation and treating the door with a minimum of two coats of a good quality exterior solvent-borne or water-borne clear finish. Adding a polyurethane sealant and polishing your door twice annually should be part of a regular maintenance plan.
Choosing a steel door is wise if maintenance is something you would prefer not to have to do as often. While just the word "steel" may sound cold, your front door and entryway does not have to look that way.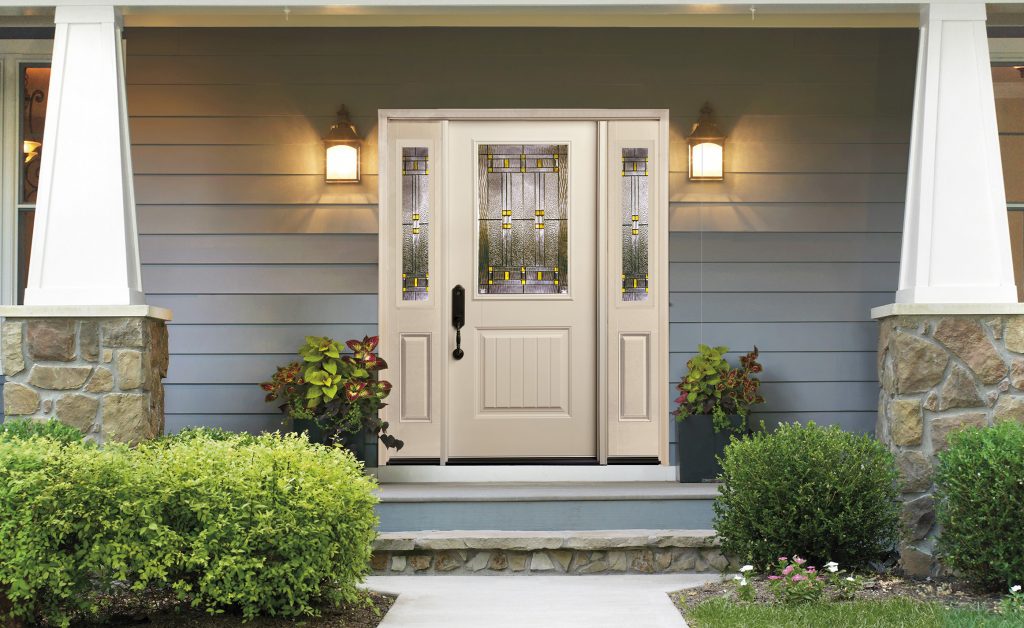 With a variety of colors, glass insets and detail work available, your steel door can say "welcome" just as well—and as warm—as any wood door. Steel also provides a step up in safety aspect department. Steel is the strongest of the three materials and the inner frames of these doors are generally constructed of wood or steel—again the strongest option. This is also a cozier option than you may think, as the interior cavities of steel doors are filled with high-density foam insulation, so they are energy-efficient, as well. (Photo courtesy of wanhaptoori.com)
While dings and dents can occur over time, they can be addressed with basic sand paper, a putty fill and a paint-over. Expect some paint touch-ups as part of regular maintenance with this option.
Fiberglass doors can also be warm and versatile.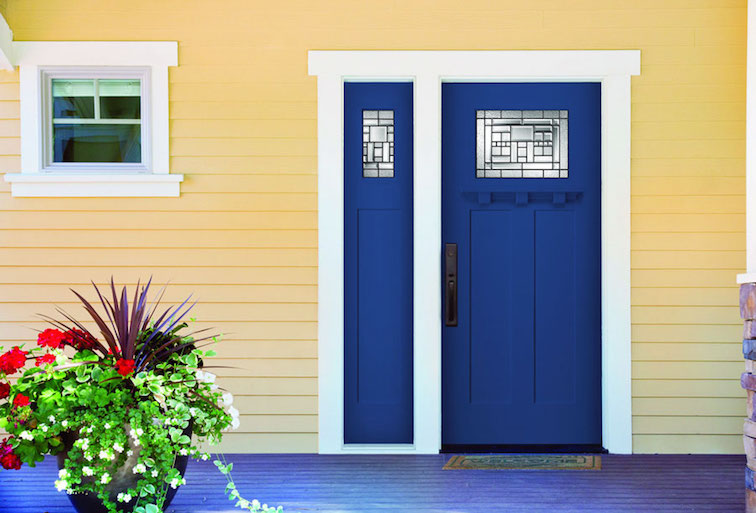 The image above proves you can still make a statement and create tons of curb appeal with a dream door that also prizes practicality. A fiberglass door can do a great job of mimicking the look and feel of a solid wood door. Even in the harshest climates fiberglass does well requiring just periodic resealing. Most of these doors are made with a core of polyurethane-foam insulation over a framework of wooden stiles and rails, and then covered with a molded fiberglass skin. fiberglass door. This option is highly durable and virtually maintenance-free. So, if wood was your dream but that option is not a practical one for your home, fiberglass could be the answer. (Photo courtesy of Codel Entry Systems)
Remember, when choosing your door, the standard about making that all-important first impression, because curb appeal is still king! Look for more door tips in our upcoming newsletter and for the next blog in our Curb Appeal series coming in September!
If you're ready to start your front door project, call us today to schedule a no-cost consultation (410) 643-4040, or feel free to drop-in at your convenience; we are open 8 a.m. – 4 p.m., Monday through Friday.