If you're a lover of the full, four-season experience that living in the mid-Atlantic provides, you probably embrace a wide-range of autumnal delights: apple-picking, cider sipping and fall getaways, where you can experience the warmth and ambiance of rustic living.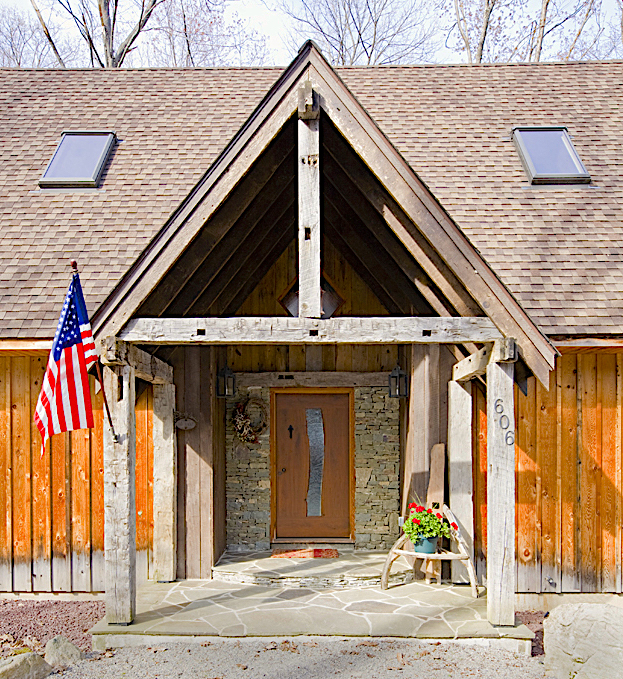 Fortunately, the owner of Lundberg Builders, Brad Lundberg, has the ultimate inspiration for autumn adventures; his own rustic retreat that blends inspired architecture with creature comforts. Let's take a tour of his wooded West Virginia hideaway and perhaps even get inspired to build your own!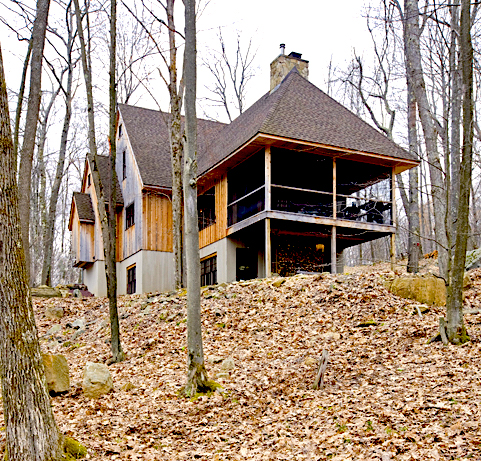 Brad Lundberg's father originally chose this location on Alpine Lake in Terra Alta, West Virginia, decades ago. Building on the rustic retreat began in 2005.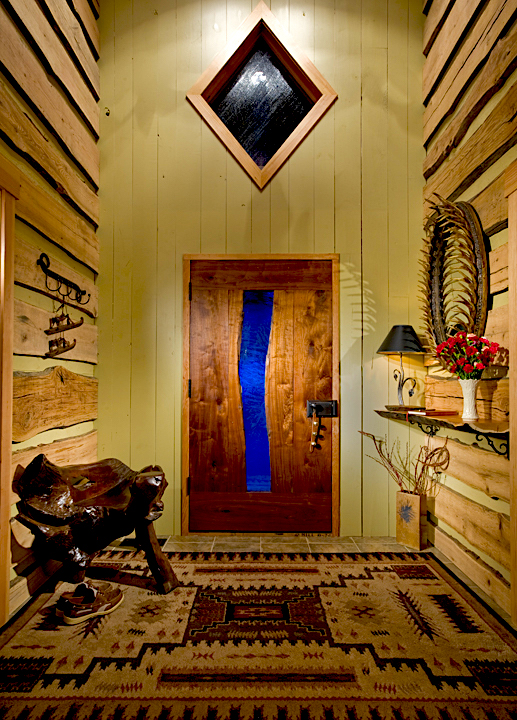 Custom is the keyword of this cozy dwelling. The one-of kind live-edge front door was carved from one of the property's black walnut trees.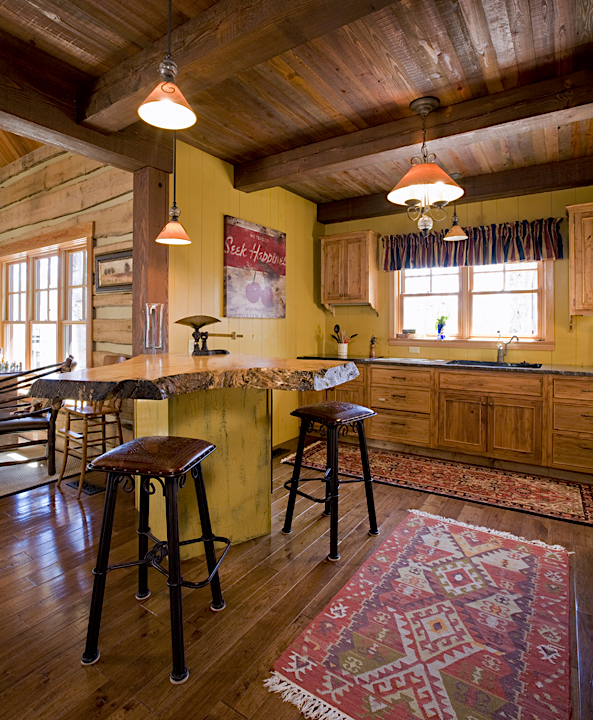 The kitchen island was crafted from a four-inch thick slice of a spalted maple tree.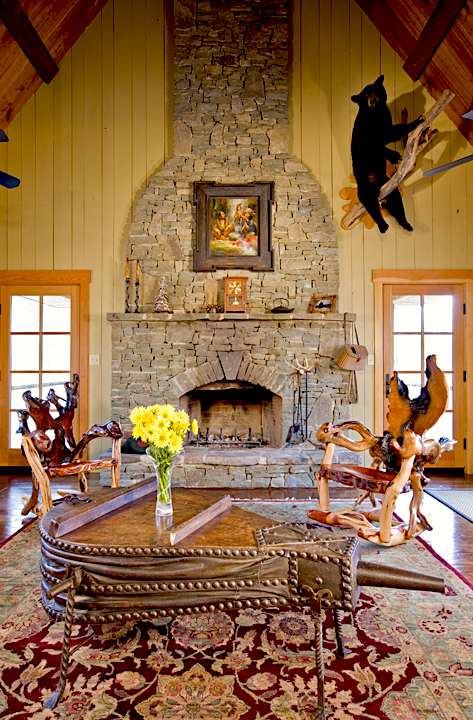 A soaring beamed ceiling in the living room is highlighted with a floor-to-ceiling stone fireplace.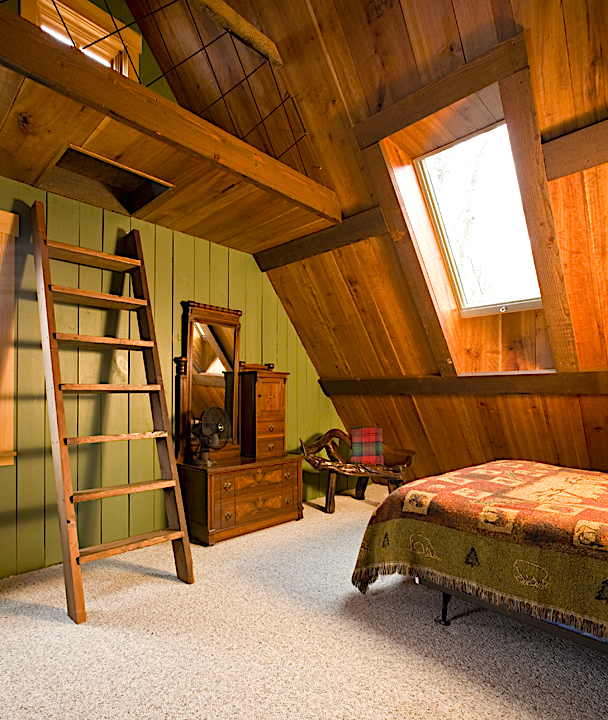 The home boasts two traditional bedrooms, an additional loft, lower level and screened porch sleeping areas; accommodating up to a dozen people in one visit.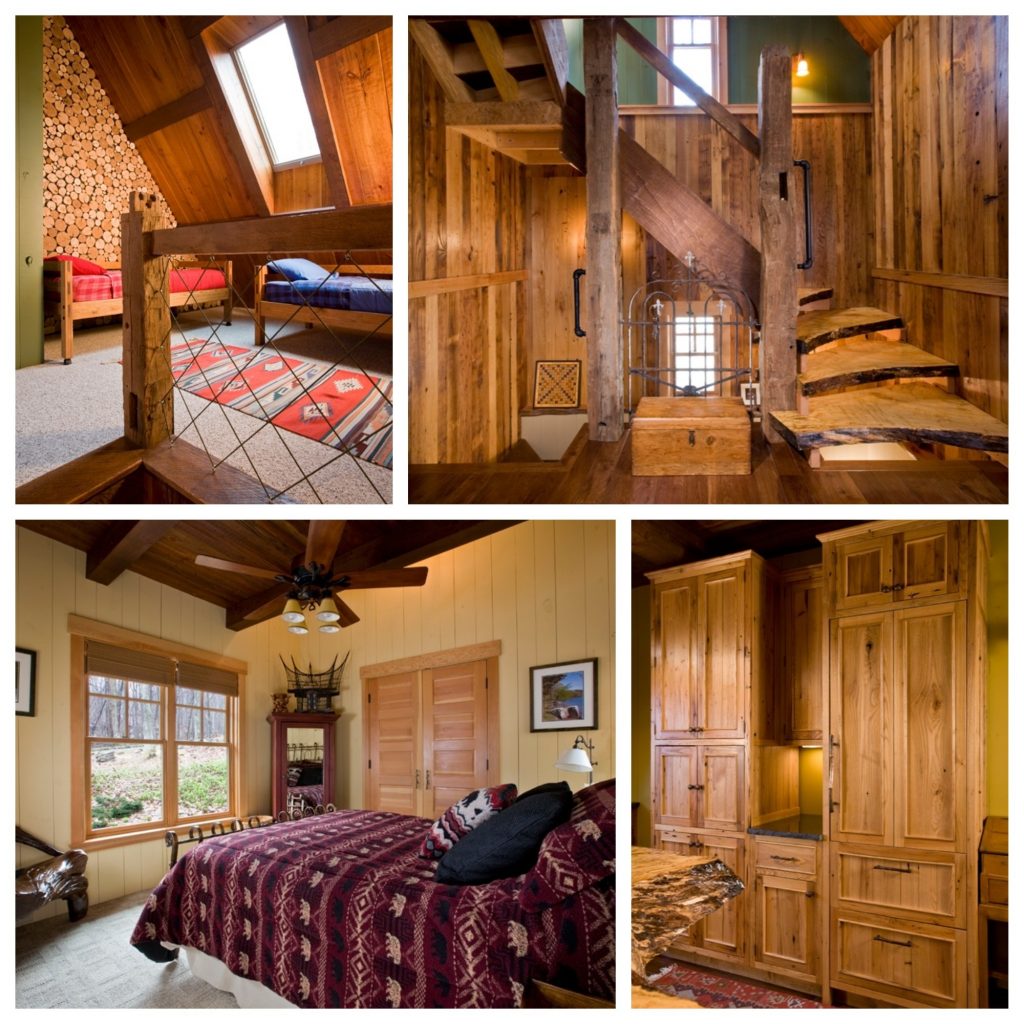 The cabin is also a no-drywall zone featuring 17 different species of wood, including cherry, maple, wormy chestnut, pine, oak and hickory.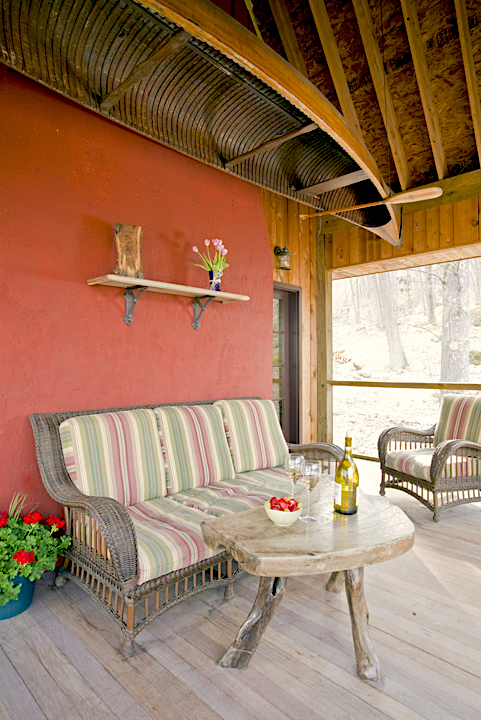 The screened porch is a favorite place for wildlife viewing. "The deer are plentiful and just about walk up to you if you have an apple or deer corn," says Lundberg, who adds this family also spots and occasional black bear looking for bird feeders or garbage cans left out. "Turkeys, ground hogs, chipmunks and fox – all make it very interesting."
Lundberg credits wife, Gail, and architect Bob Moreland with the execution of their rustic escape which he says is not just used for fall retreats. "All times of the year are great and very different. Gail and I can go for a quiet weekend – read and hike, or it can get wild with a bunch of grandkids running everywhere," Lundberg says. With lots of snow in the winter, we have a variety of sizes of show shoes, toboggans, sleds, etc."
The summer months, he adds, are perfect for canoeing, kayaking, hiking, and checking out the surrounding areas. Along with impromptu family gatherings, the cabin has also been the sight of numerous Fourth of July celebrations, and even a couple of weddings.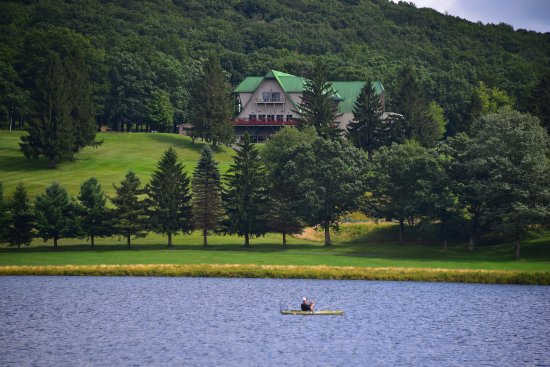 "Gail and I spent a lot of time working on the details together and we couldn't be happier with the result."
Ready to start building some family memories of your own with a custom-built, architecturally exciting home that reflects your personality and your lifestyle? Contact Lundberg Builders at 410-643-3334 or visit lundbergbuilders.com. Lundberg Builders, Inc. is located at 314 Main St., Stevensville, MD.