So, what's this word "hygge" all about? Hygge refers to a Danish lifestyle concept that dates back to 19th century Scandinavia. Pronounced "hoo-ga," the Danes believe there is much to be gained by creating cozy living spaces and surroundings that speak to simpler and even smaller creature comforts. Think ski lodge-cool, soft-as-a-cotton-ball socks, and the comfort of warm and steamy beverages on our coldest winter days. These are all elements and examples of living "Hygge".
Let's see what happens when we apply this way of thinking to décor and design to our most basic retreat –the bedroom.
Play with Wall Texture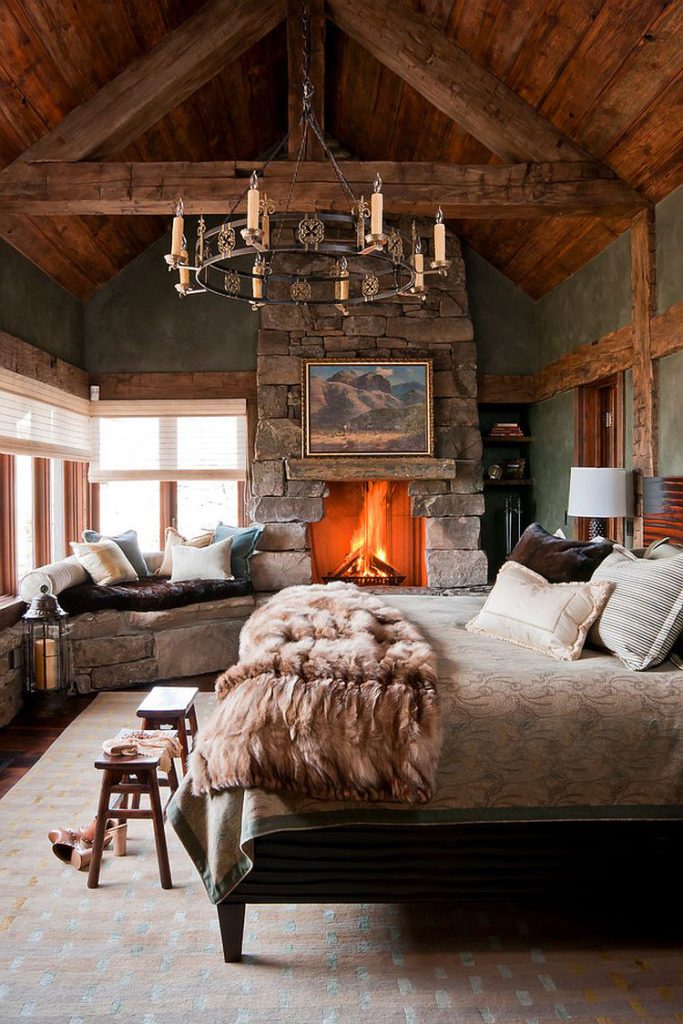 While plain drywall and standard art and shelving is practical,  adding features like wood beams and wood wall accents changes a functional room into a sanctuary space that can transport you to another place. Reset your "head space" button with warm woods interspersed with other textures like stone and toss in a fur throw for a completely enveloping experience and perhaps, a well-earned, long winter's nap. (Photo credit: Yellowstone Traditions)
Choose a Fireplace as Your Focal Point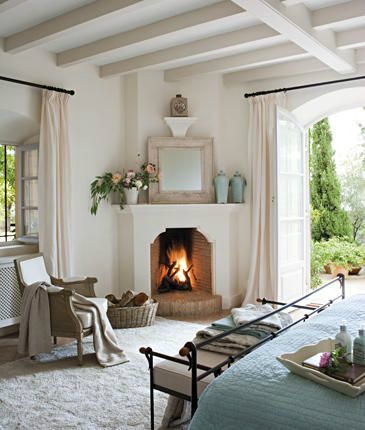 Technology and advancements in in-home heating make in-bedroom fireplaces more convenient than ever. It seems a shame NOT to add this feature as a room focal point that can be all at once posh and practical. Be sure to research which heat source is best for you: gas, wood or even electric. Remember, there are varying levels of convenience depending on which energy source you choose—as it can actually mean the difference between "sawing wood" and chopping it. (Photo credit: cornerfireplaceideas.com)
Add a Romantic Seating Area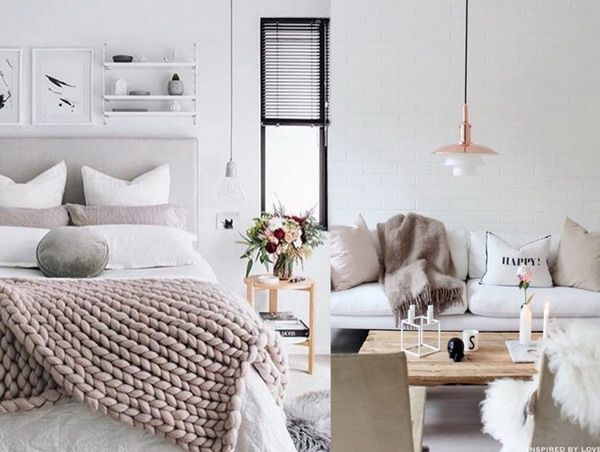 Create a soothing mood and get comfy before you even hit the sheets, by allowing enough room in your floor plan for a cozy seating area for reading, meditating or just plain conversing—remember conversation? Add books, aroma therapy candles, wine—whatever adds to a relaxing space. The most progressive floor plans even allow space for a wine or mini fridge and wet bar, for those nights when breaking the Zen zone by leaving the room is just not an option. (Photo credit: Inspired By Love)
Layer in Comfort Under Foot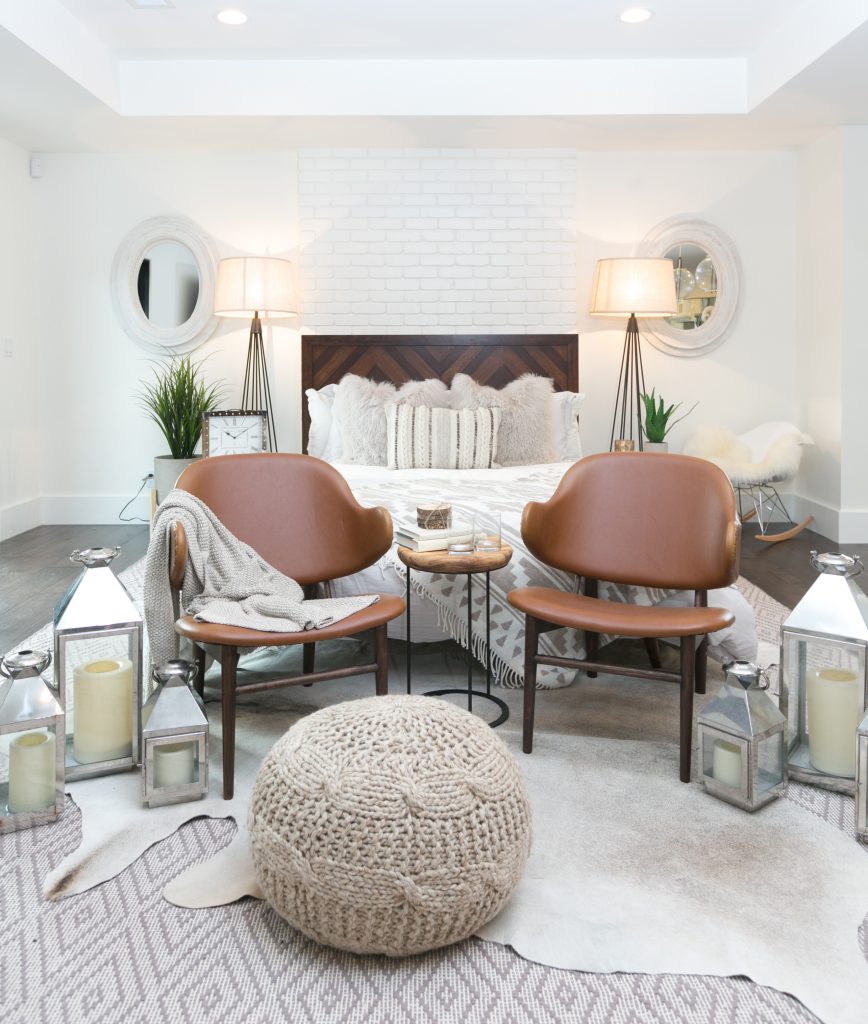 It wasn't that long ago that bedrooms were bastions of wall-to-wall carpet pile, and with good reason—comfort and warmth. Choosing a warm hardwood for this room can be just as cozy and practical (a great choice for the allergy-prone) when you add the right area rug, and maybe even layer in more texture with a faux animal skin in winter. How deliciously Danish! (Photo credit: New Pacific Direct, Inc.)
Go For Glow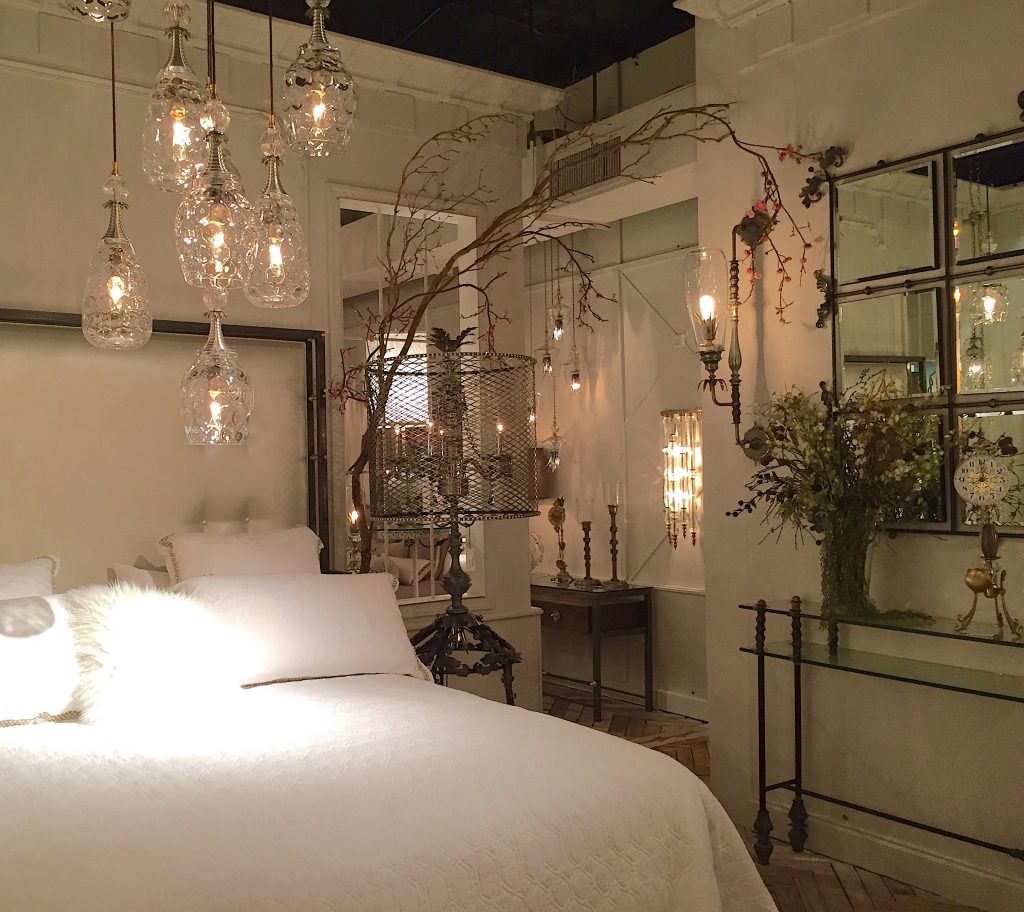 Never underestimate the influence lighting has on a room, especially bedroom lighting. While classic, task lighting is desired for dressing and reading purposes, it's not the only lighting option you should consider for this room. A bedroom with a Hygge vibe will exude a warm glow. Fortunately, now there are more romantic wall-mounted options than ever—as well as, on-trend, boutique pendant lighting that helps create the ambient environment and feeling of well-being so important for Hygge living. (Photo ©2016 Lisa J. Gotto)
Want to bring that sense of "hygge" into an existing bedroom or have a new one designed with this concept in mind? Lundberg Builders are ready to help you create cozy interiors for the winter and all year-round with the custom touches and timeless details that make a house a home.
Create your wish list and contact Lundberg Builders today at 410-643-3334 or visit lundbergbuilders.com. Lundberg Builders, Inc. is located at 314 Main St., Stevensville, MD.