Are you an animal lover and have pets that are members of your family? One of the latest trends in home building is to consider your pet when making the "wish list." When building a custom home or remodeling your current home, there are fantastic ways to keep your furry friends in mind during the design process.
Here are 5 of our favorites!
Feeding Station
What is better than a custom feeding staying for your pet? This homeowner had two dogs to accommodate and Lundberg worked with them to design a fantastic option. The dog bowls are placed at a height perfect for their breeds and are placed in holes made just for them. These lucky dogs even have a marble countertop where they dine! The owner also requested that the station be surrounded by built-in shelves. This allows for storage for any dog supplies, while also blending the station into the kitchen's decor.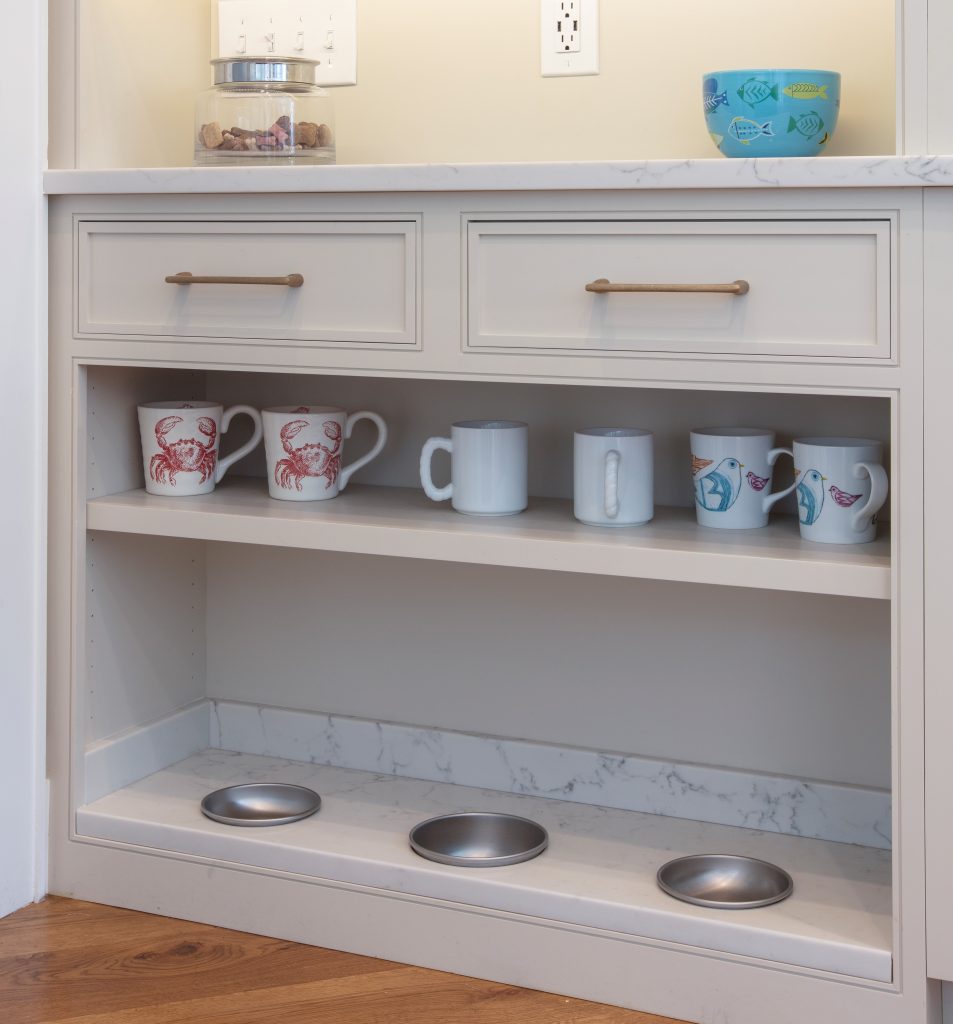 Lundberg Builders, Wye Mills, MD
Built-in Pet Beds
One of the main reasons to add pet features in your home design is to reduce the "pet clutter." Pet beds, toys, bones, and pillows can add to home clutter. Built-in pet beds give your pet a specific place to call home and keep the pet items off the floor and out of the way.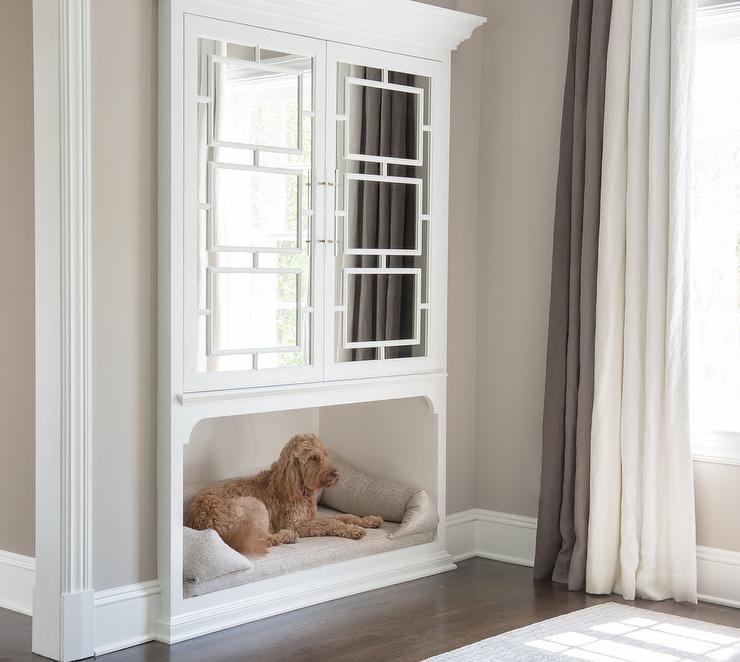 Design by Stirling Mills Interior Design, Photo Source
Durable Flooring Options
When designing a room or home with pets in mind, flooring is a major consideration. Accidents can happen and you want to choose a flooring that can withstand those accidents as well as clean up any dirt or hair easily. Vinyl flooring is a great option for homes with pets. Luxury product lines now make vinyl both practical AND stylish. Bamboo is also an excellent alternative to hardwood floors because it is very stain-resistant and durable.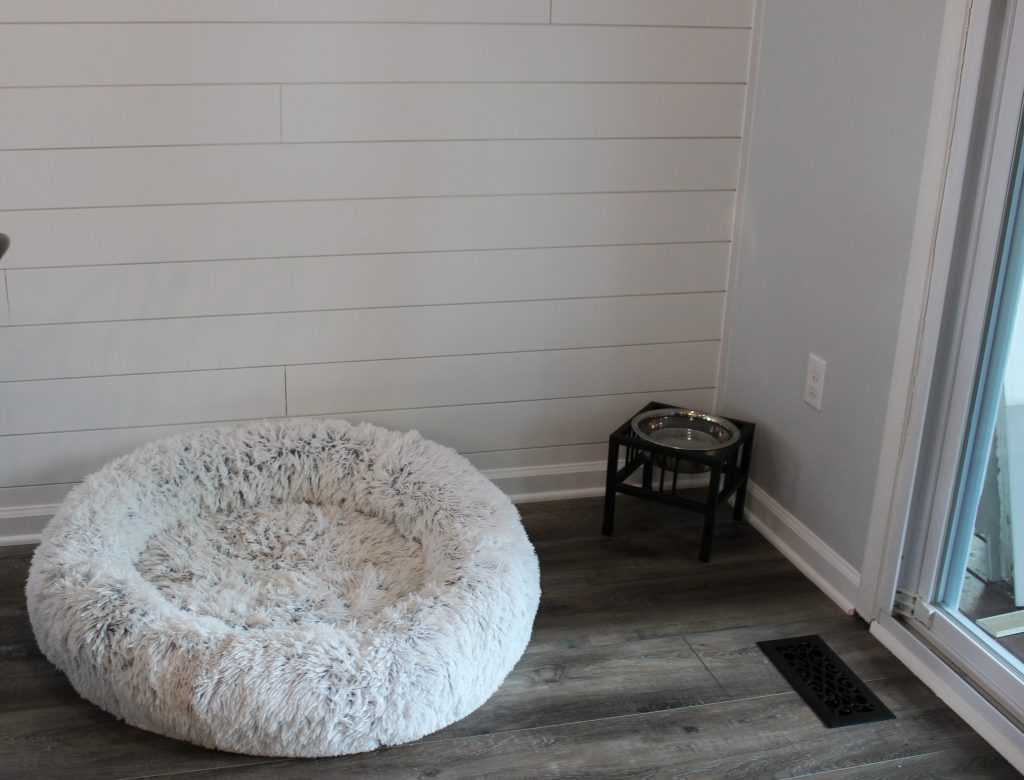 Kent Island, MD
Pet Shower Stations
If you've ever tried to bathe your pet in your own bathtub, you see why pet shower stations have become so popular. Usually located in the mudroom, laundry room, or even the garage, pet showers have many design options. While some still allow you to lift the dog into a sink or tub, others are designed so the pet can walk right into the shower, not be lifted. Many have higher walls to block the splash, while others have doors. Most have a movable shower head to help make bathing your pet easier.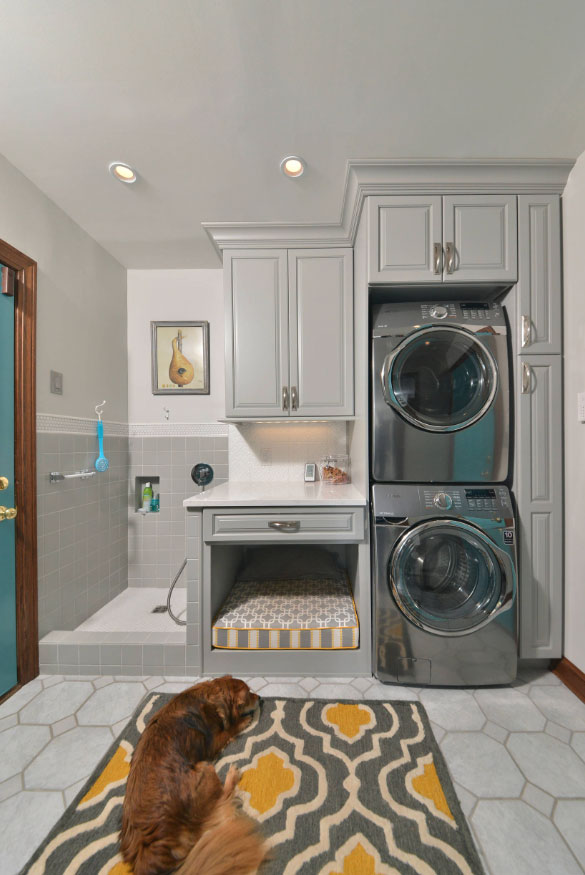 Built-in Pet Gates and Doors
Whether your home or away, there are often rooms that are off-limits to your pets. In the past, portable pet gates were the only way to block off areas of your home. Now, with remodeling and new builds, pet gates and doors are being planned into home design. These doors and gates can be made to blend into the design of your home.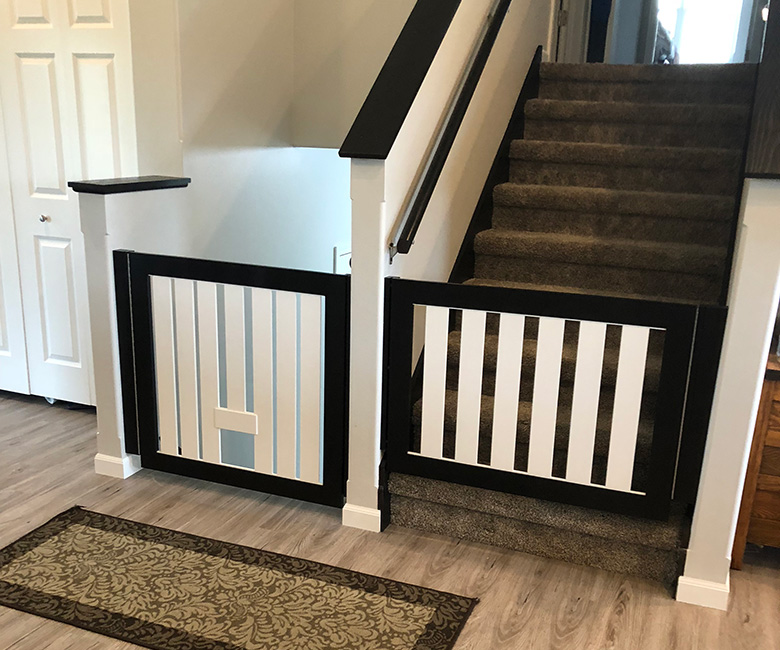 Pocket door dog gates are also a possible gate alternative for your furry friend. The gates "hide" in the wall when not in use. This way, they do not interrupt the design of the home but are readily available when needed. Pocket gates can be added to custom cabinets or within a wall. The homeowner below had their gate added to their custom cabinets but creating drawers in front of the gate. The gate was incorporated seamlessly and now works for both the pet and homeowner.
Pets are family members and with custom features, they can have their own spaces in your home, too.  Pet-friendly homes can be both functional and aesthetically pleasing with creative design.
Lundberg Pet Partners
At Lundberg, we LOVE working with our "pet partners." They help give us some of our best creative ideas! Here are some of our recent office visitors and advisors.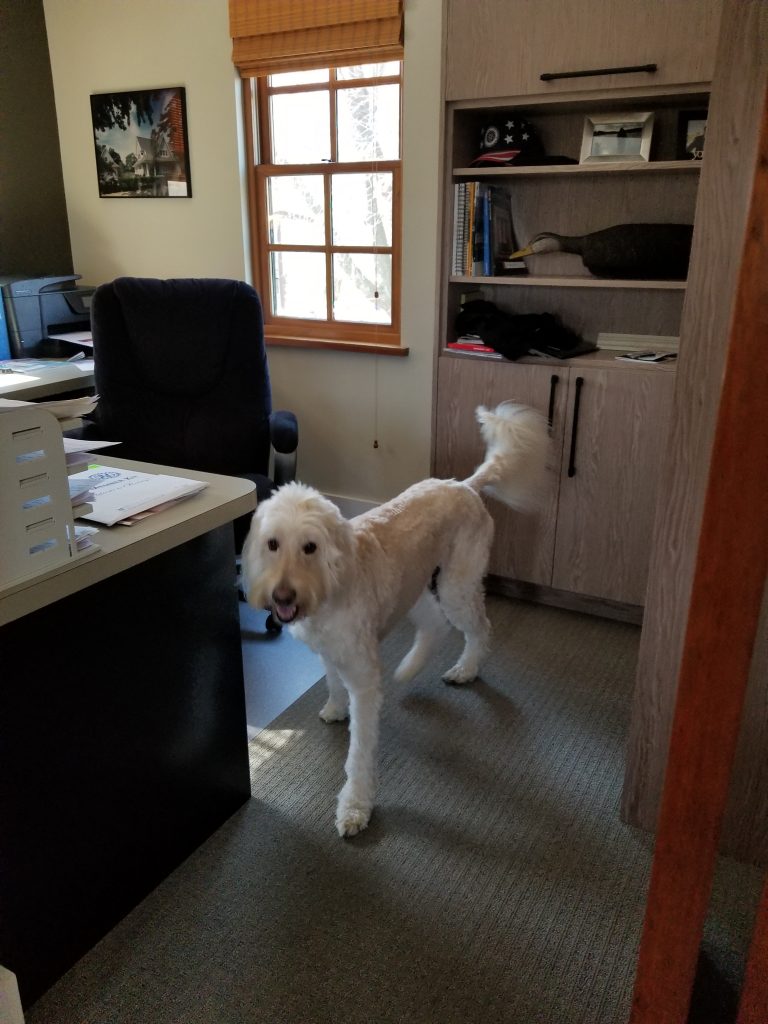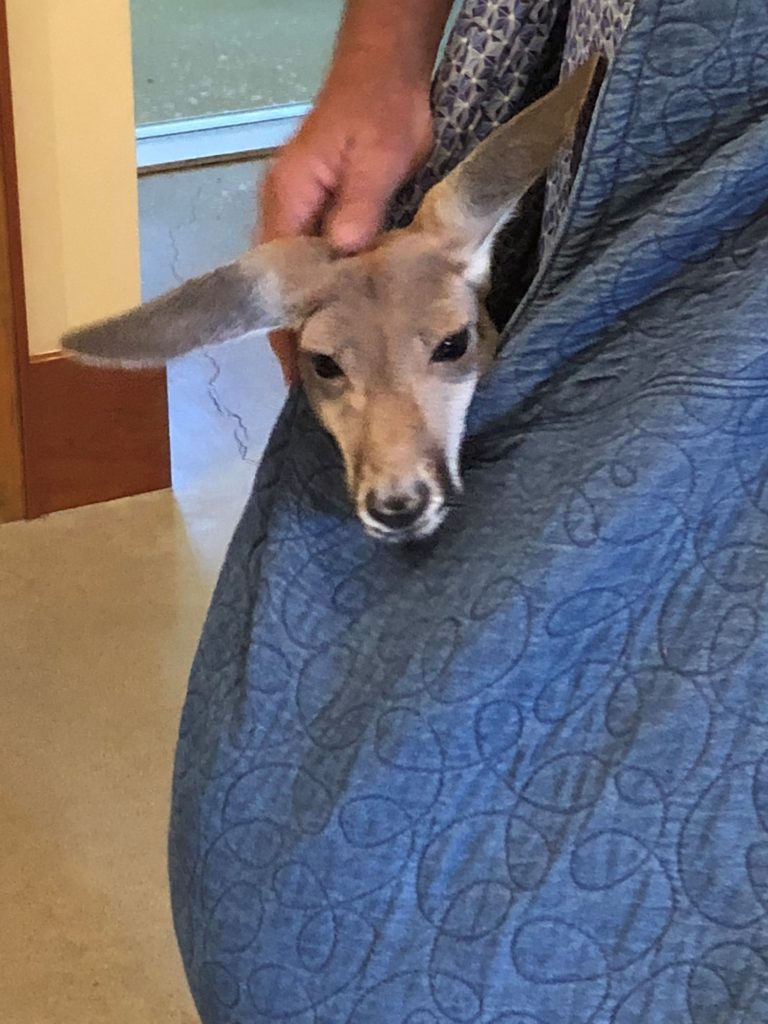 "Cody" came to help draw up his renderings and "Rusty" the kangaroo even came to make sure his home was perfect for his needs!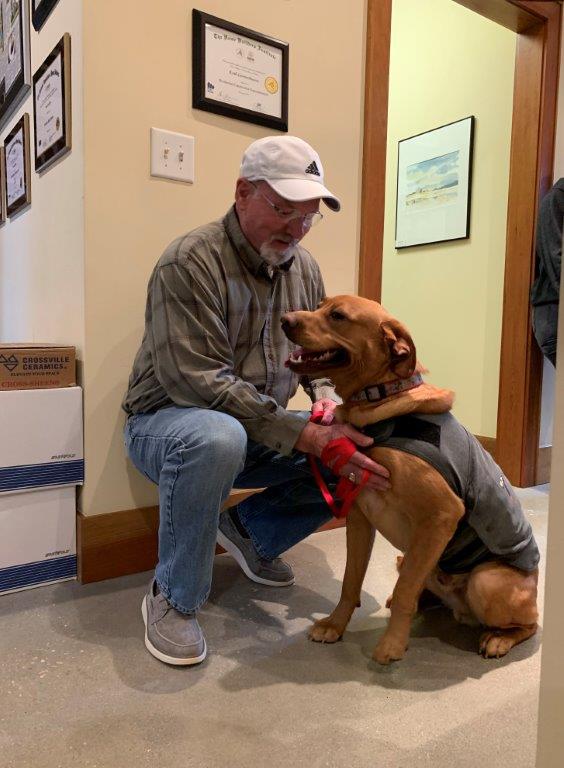 "Rhett" came to the office with our Estimator, Gary and Bailee and Aubree came to work to help mom design kitchens and baths.
Ziva and Wenni also popped into Lundberg for a visit.
Moving Forward with Your Pets In Mind
When building a custom home or upgrading your current residence, thinking of your pets in the design process can help you create a space that works for the WHOLE family! Feel free to bring your pet when you meet with our designers and supervisors. From cats, dogs, to even kangaroos, we look forward t0 working with you in order to make your home perfect for ALL members of your family!