We are fortunate to live in an area of the U.S. that offers some of the best views on the Eastern Seaboard. Indeed, life along the Chesapeake comes complete with many visual amenities from our tiny town inlets, to our bucolic farmlands, to our more expansive Bay views. (Photo courtesy of Loewen Windows)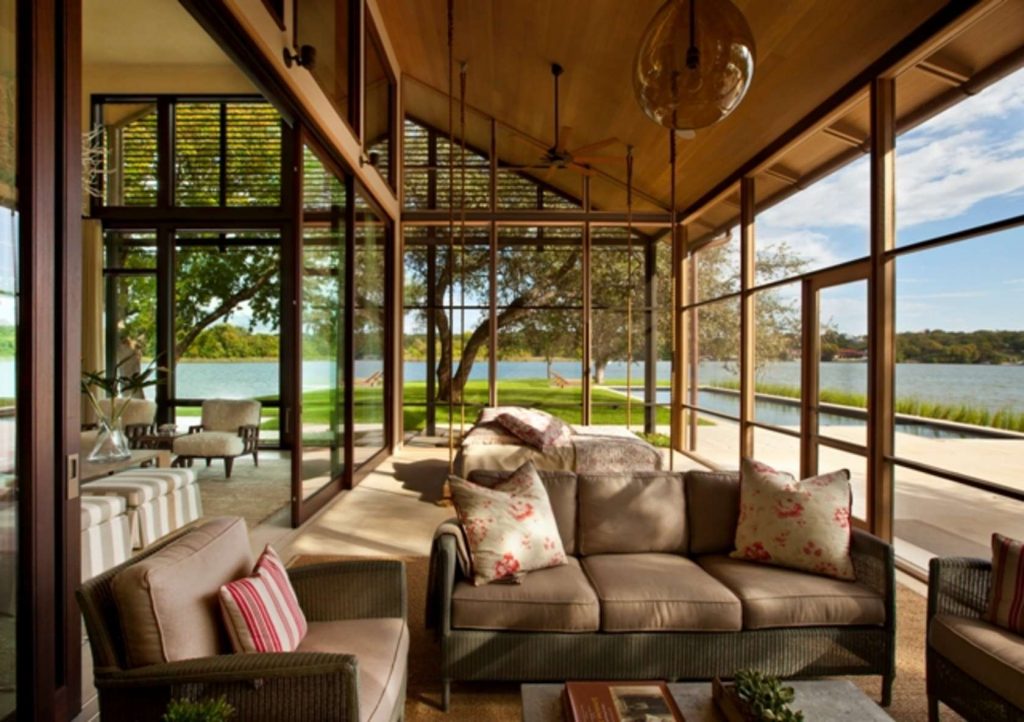 This is one of the reasons why if you are building or buying a residence here, you will want to be certain that the windows you choose meet the criteria for the three essential "S's" of window selection: Safety, Savings and Style.
Window Primer
Before we get into our three "S's," perhaps a brief overview of window basics would be helpful.
First of all, window frames are generally made of wood, aluminum, fiberglass or vinyl. Each coming with their own sets of pros and cons. The most common windows today are made of wood or vinyl. Wood is found especially in older homes and remains a highly desirable choice because most homeowners feel they just look better. With proper installation, they also help insulate the home and perform reasonably well in the long-term, if they are maintained regularly. Vinyl has become the more popular standard for modern homes because it is less expensive than wood. While they are low-to-no maintenance and energy efficient, vinyl does not get high marks in the longevity department, so over the lifetime of a home, you can expect to replace them. Meanwhile, fiberglass windows are super-insulators and have been steadily gaining in popularity in the new-build market over the last decade. Fiberglass is also known for its low thermal expansion rating and its versatility—which allows for more design options. High-performance aluminum is also a contender in the efficiency category as it is said to exceed environmental standards for thermal performance. Like fiberglass it is also, low maintenance, more economical than wood and is highly versatile from a design standpoint offering a wide array of finishes to complement any décor. (Photo courtesy of Loewen Windows)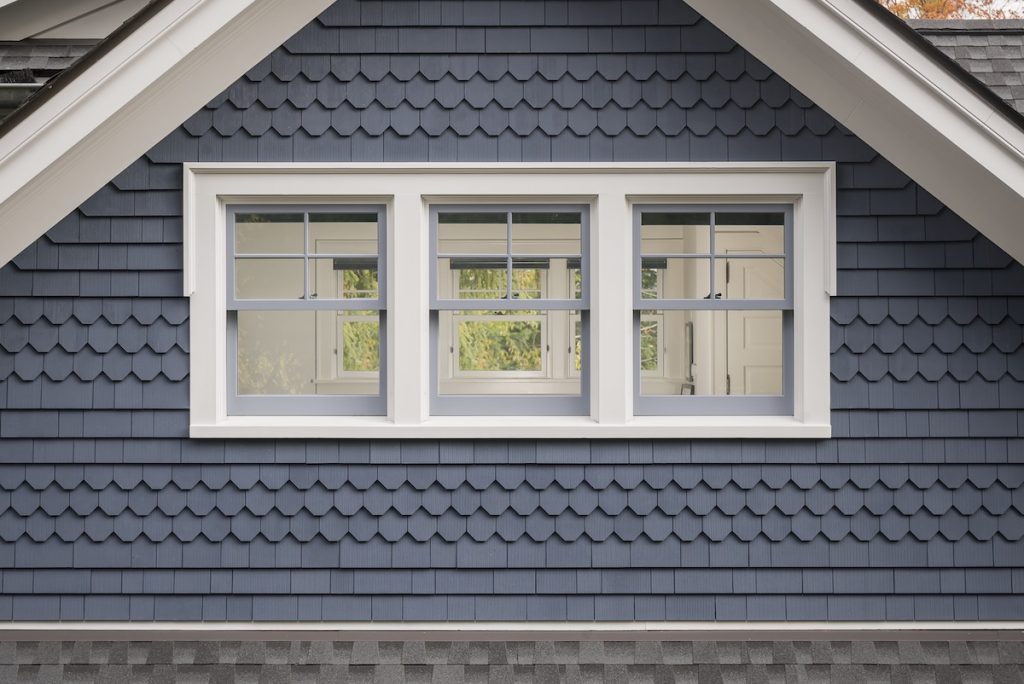 You will also have options when it comes to glass. Single-pane windows are basically obsolete and should only be used in the most temperate of climates. Double-pane windows are considered standard and feature two sealed panes to reduce heat loss. Variations are available to increase the level of insulation, including a "low-E" glass option that has an invisible metal coating on one surface. Windows that contain inert gases like argon are available in double- and triple-paned styles providing maximum insulation for homes in colder climates.
Safety
While those million-dollar views are highly desirable, they are not worth the price tag if your windows are not structurally sound and built in a manner that has your safety in mind for years to come. We all know the impact an imposing Nor' Easter can have on properties in vulnerable bayside communities, so safety and protection from the elements is key.
It is wise to provide for any scenario Mother Nature throws out there by investing in impact resistant windows and reinforced storm windows. These types of windows offer reinforced framing and thicker, heavy-duty double-pane glass. Other features of impact-resistant windows include larger window locks for increased strength and durability, interlocking sash and meeting rails and fully extruded lift rails. (Photo courtesy of Loewen Windows)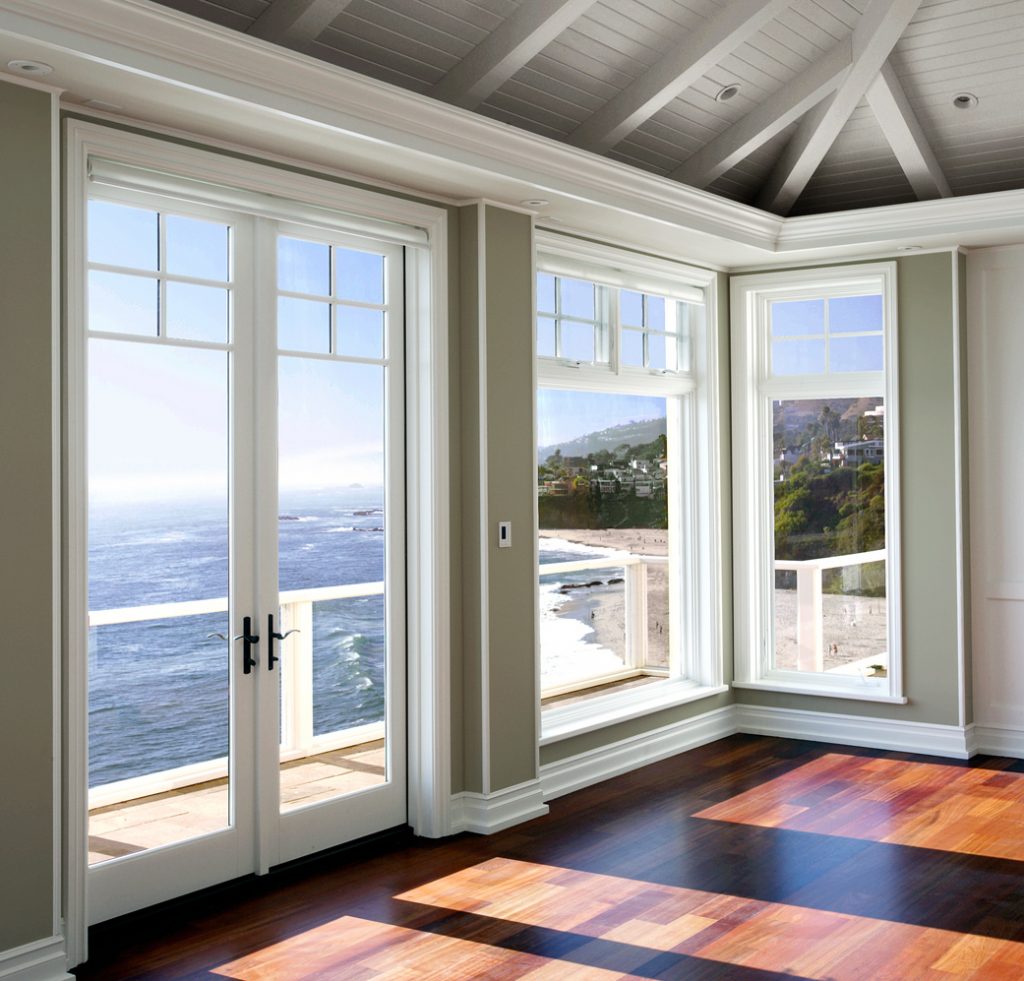 When we think of safety, of course, we are also talking about protection from home invasions and break-ins. Certain window styles, for example, casement windows, have an edge when it comes to security over single and double-hung window styles. Certain window glazes also provide a greater level of security. These important aspects should always be a central part of any window selection discussion with your builder.
Savings
Fortunately, many of the features that make windows safe also make them highly energy efficient, so over the life of your home you are likely to recoup the money spent in investing in the most efficient windows. (Photo courtesy of Loewen Windows)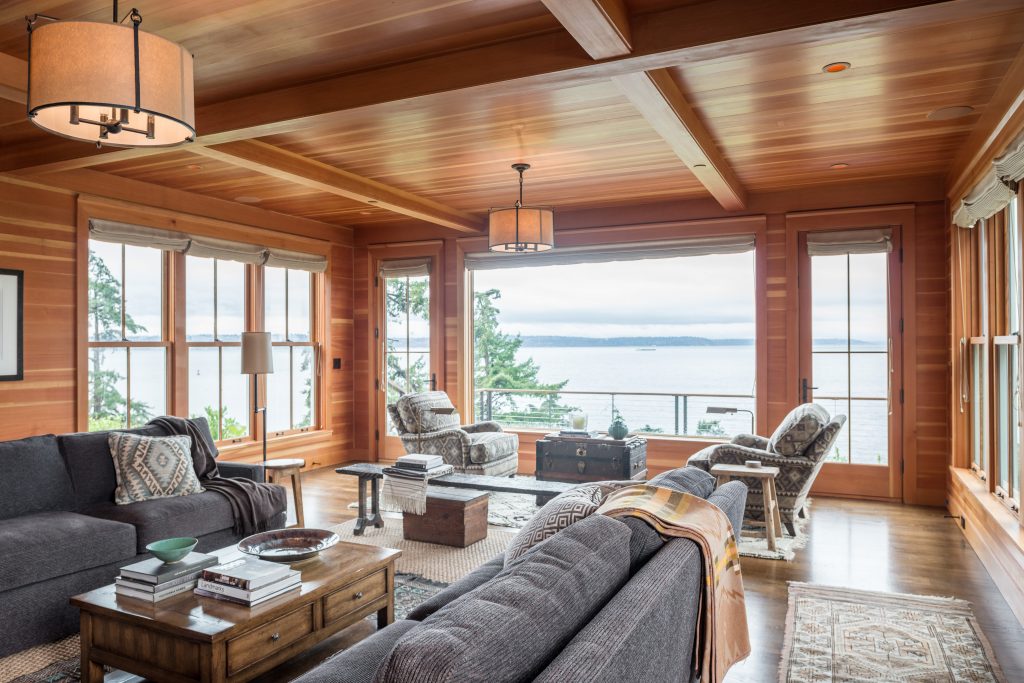 So how do you know what you are getting when it comes to energy savings? There is a rating system associated with window types; this is called the window's "R-Value." This rating runs from an R-1 rating for a clear, single-paned window, to triple-paned windows with an R-Value range of 5 to 7. The higher the rating the better the efficiency factor.
Another variable in the rating system, is the "U-Rating" associated with the rate at which a window conducts non-solar heat flow. In this case, the lower the U-Factor, the more energy efficient the window is. So look for these ratings when shopping or ask when consulting with your builder about your window selections.
When in doubt, always look for or ask whether the product is Energy Star-rated. Tax credits for consumers who purchase Energy Star-rated materials and products remain in effect at least through 2021 under the Bi-Partisan Budget Act of 2018.
Style
Okay, so now we come to what many consider the fun part of selecting their home's windows—style!
While basic single and double-hung windows will always have a place in home building, adding in some other options, can help turn an ordinary façade into a home with depth and character. (Photo courtesy of Loewen Windows)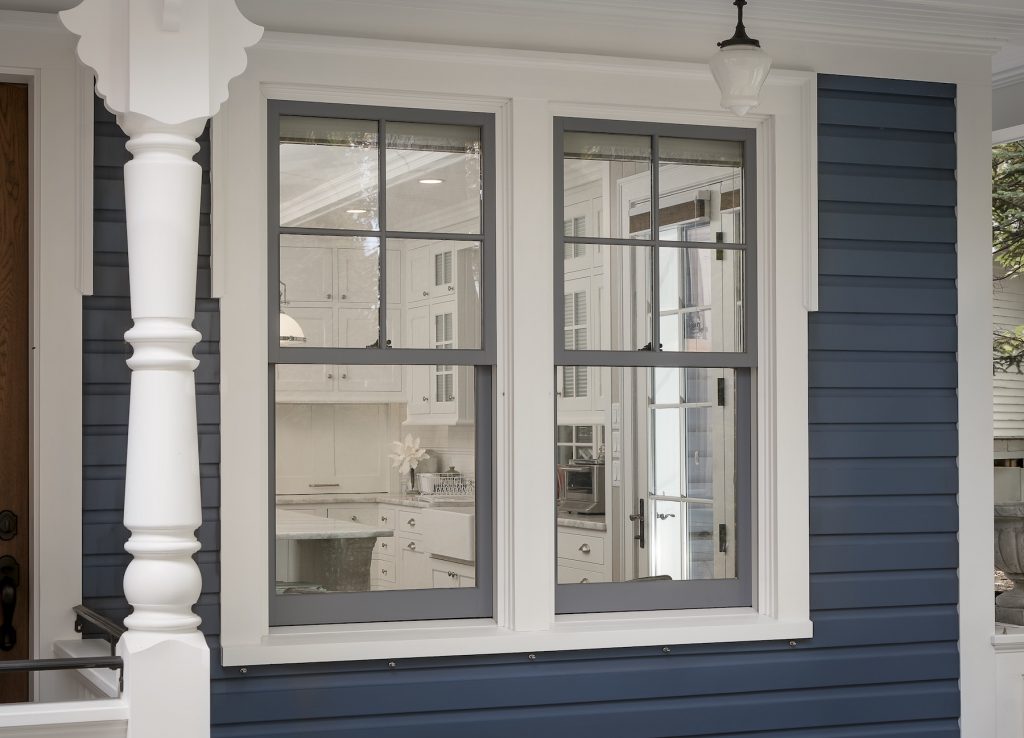 Bay, bow, casement, sliding and arched styles are just a few of the ways that homeowners are injecting personality into their abodes with window options. With today's flexibility in materials, letting the sun shine in can be an opportunity to personalize and customize just the look you're going for.
Have you traveled abroad and gained inspiration from the Palladian architecture of Italy? This window option helps put the word "great" in great room every time!
Are you fortunate enough to have a Bay view? Well, then a floor-to-ceiling option may be just the way to show it off. (Photo courtesy of Loewen Windows)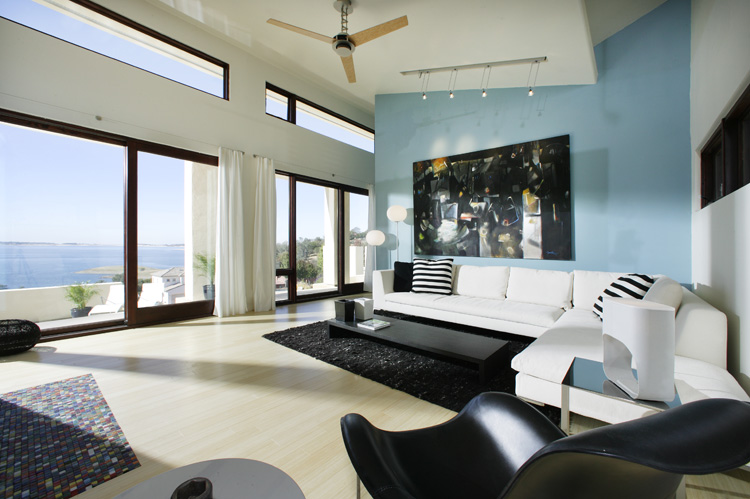 Speaking of the Bay, how about a bay window? This charming option that offers a series of three connected panes and sometimes an added inset, helps a smaller room look bigger, lighter and brighter and turns an ordinary eating area or breakfast nook into your own "pride of place" viewing spot. Bow windows offer similar advantages but offer a curved window line. (Photo courtesy of Loewen Windows)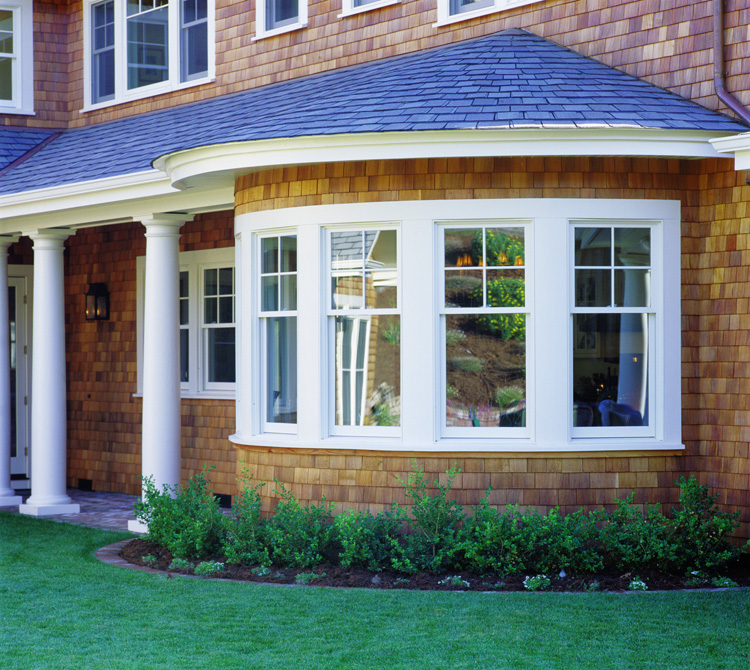 What about making a simple statement using a series of small arched windows for a wonderfully romantic bedroom effect? How dreamy! (Photo copyright Lisa J. Gotto)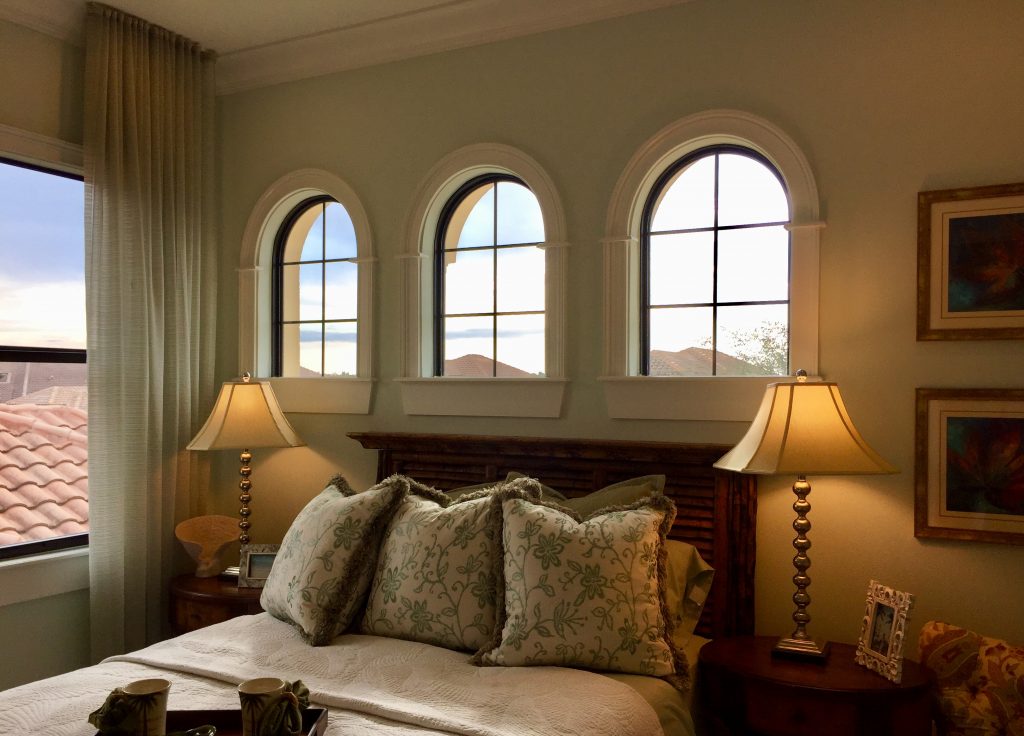 Contact Lundberg Builders today and talk to our experts about what the windows of your dream home look like! Call 410-643-3334 or visit lundbergbuilders.com. Lundberg Builders, Inc. is located at 314 Main St., Stevensville, MD.