As the weather warms up, it is natural to want to create an outdoor space to relax, entertain, and enjoy the outdoors. Patios and decks are both fantastic options for extending the home outside. So which is right for you and your home?
Decks
Decks are raised to be at floor level with the home. Because of this, they are great for uneven ground. They are highly customizable with a variety of shapes, designs, and materials at your disposal. While decks have traditionally been made from wood, composite decking boards are becoming increasingly popular. Composite decking does not require regular staining or maintenance, comes with warranties against rot and wear, and is offered in a variety of grain textures and colors. Companies like Azek and Trex offer deck boards in different lines for different budgets, making a composite deck an attractive option for homeowners. Along with decking material, homeowners can also customize their railings. Instead of traditional wood railing, composite decking is matched with vinyl rail systems that can be pure vinyl or include baluster styles made from vinyl or aluminum. Cable railings are also gaining popularity. The latest creation in the decking world is aluminum decking boards by Nexan Building Products. Aluminum deck boards still come in a selection of colors and have the benefits of composite decking, however, boards do not hold heat and therefore are not hot to the touch.
[The deck above was built by Lundberg Builders,  Inc. and includes Nexan Light gray aluminum decking, Nexan powder coated white aluminum framing, and a Nexan cable rail system with white aluminum posts.]
Patios
In contrast to decks, patios are ground level and therefore do not require railings. They are often less expensive than decks and have a quicker install time. Patios, too, can be customized in a variety of shapes and designs. When choosing materials for a patio, the main decision is on the type of hardscapes used to create the area. Choices include gravel, pavers, concrete, stamped concrete, stone, flagstone, and even wood. Most patios also incorporate landscaping. Patios can be used as an outdoor space that is an extension of the home or can be a standalone space in the yard. Patios are also great for finishing off areas around pools as seen in this picture below. Pavers can connect the pool area to the home, deck, and pool house providing a stunning frame for the inground pool. Porcelain pavers, like selections from Belgard,  are a great choice because they look like real stone but are not hot to the touch.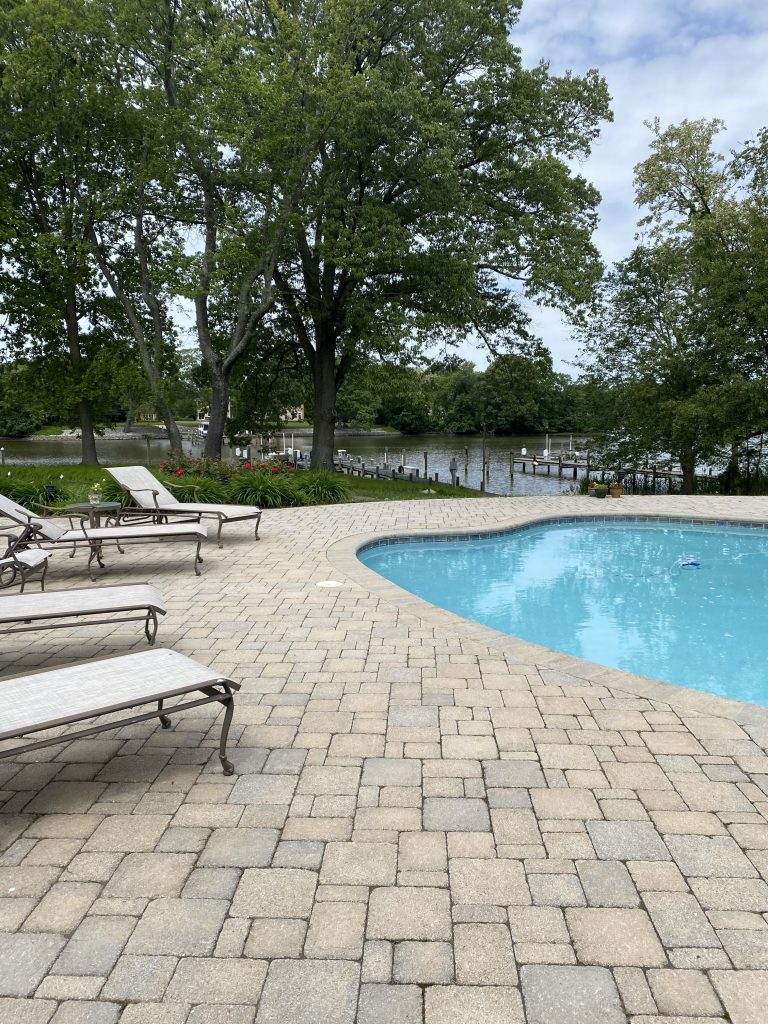 [Patio courtesy of Lundberg Builders]
Both decks and patios can incorporate added features like outdoor kitchens or fireplaces. Rain and sun cover can be added to through pergolas and roofs. Decks and patios can be custom designed by Lundberg Builders, Inc. to meet your needs and bring your vision to life.
Return on Investment
When creating your outdoor space, it is important to consider the return on the investment you are making. According to HomeAdvisor, decks have a return of investment between 60-80% while patios return of investment is slightly under 50%. Either choice will add some value to your home's resale value and, most importantly, will add to your quality of life.
If you are thinking of building a deck or installing a patio, contact Lundberg Builders, Inc. so we can begin the design process and get you out enjoying your custom outdoor space.