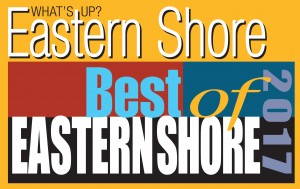 LUNDBERG BUILDERS WINS WHAT'S UP? MAGAZINE'S BEST OF EASTERN SHORE 2017 READER'S POLL FOR 'Custom HOME DESIGN/BUILDER & REMODELING' FOR THE 7TH CONSECUTIVE YEAR
June 2, 2017 – Lundberg Builders, Inc., a leading full service design and build firm serving Anne Arundel County, Queen Anne's County and the Eastern Shore of Maryland has won What's Up? Magazine's Best of Eastern Shore 2017 Reader's Poll for 'Home Design/Builder & Remodeling/Custom Building Services'. This is the company's seventh consecutive year as the winner for this category. Lundberg Builders projects have been featured in numerous leading home building and design magazines including, Home and Design, Annapolis Home, Home, Builder/Architect, as well as The Washington Post. They have also recently won Best of Houzz in Design, a recognition from Annapolis Home Magazine and The Capital Readers Choice awards. The company has grown significantly each year—even through a recession when other companies were going out of business.
"We can not thank the community enough for their support and votes. We are both honored and humbled to receive this recognition for the 7th year. Our reputation is largely built on the confidence you place in our company. We strive to not meet your expectations, but to exceed them and being recognized by our local community shows us that we are doing just that." – Brad
Every year What's Up magazine asks their readers to cast their votes for the best businesses, law firms, spa services and medical professions by submitting an online ballot on whatsupmag.com or by mail. The winners will be honored at the annual Best Of Party held on June 15 at the Annapolis Lowes Hotel.
About Lundberg Builders
For more than 35 years Lundberg Builders has specialized in the finest quality custom residential work. From large mansions to renovations and home maintenance projects, our name and reputation is synonymous with award-winning designs, exceptional value, quality craftsmanship, and extraordinary customer care.
# # #